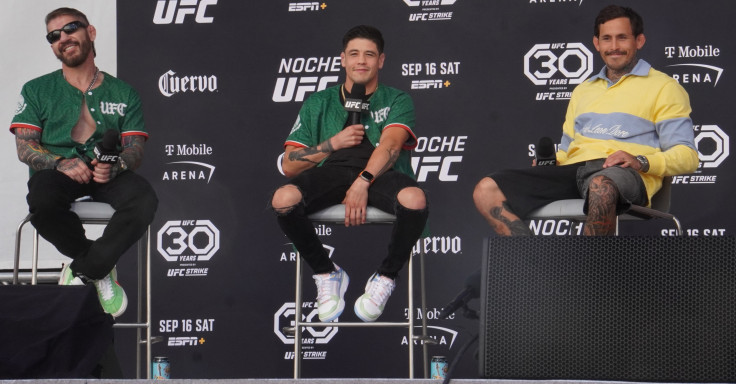 Fluttering with Mexican pride, Tijuana-born Brandon Moreno says he is ready to fight again in 2023, claiming his broken hand is better and he hasn't stopped training.
During Noche UFC's fight week, on Friday (Sept. 16), the UFC hosted its 30th Anniversary Question and Answer panel with Latin MMA fighters Víctor Dávila, Brandon Moreno, Marlon "Chito" Vera and Tatiana Suárez.
During this session, The Latin Times asked Moreno, the former UFC Flyweight champion, what he thought about many Mexican fans swearing he was the real winner of the championship bout he lost against Brazil's Alexandre Pantoja and whether he wants to bring the belt back to Mexico.
His answer was somewhat ambiguous regarding whether he would bring the belt back to Mexico, but he made it clear he hadn't stopped training, and his broken hand from the Pantoja fight was almost healed.
"I think it's not a decision (for me to) make (...) It's up to the UFC and to the people to ask what they want to see, whether that means maybe sharing that on social media," Moreno said. "I'm a worker. I just spend my time working, and I'm waiting for them to give me my next rival. I'm hoping they give me something soon. I want to fight before the end of the year. I don't know if my hand is at 100%, but it's much better, so I'm ready."
The crowd outside Toshiba Plaza in Las Vegas roared with praise for Moreno following his answer. Regarding what he thought about many fans upset with the decision to give the title to Pantoja after Moreno lost his title defense fight in early July 2023, Moreno said he understood the decision.
"I'm a worker. I just spend my time working, and I'm waiting for them to give me my next rival.- Brandon Moreno
"That was a close fight, and I understand what happens in those fights when it can be a hard decision for the judges. I understand why the judges saw Pantoja win. In the end, I think the fifth round most affected me," Moreno said. "He knocked me down, took my back, and secured that position, but I think I did well. I connected good strikes and was very close to finishing him in the fourth round."
During the Q&A session, the UFC allow fans to ask questions alongside the media. A fan named Eduardo, from Chihuahua, Mexico, asked Marlon 'Chito' Vera what it felt like to be a pioneer in the wave of Latino fighters entering the UFC. Vera, one of two Ecuadorian fighters in the UFC, said it's a huge thing to have the opportunity to represent where they came from and their roots.
"We all came from small countries, small towns where it might have never been said that you would make it to something big. The fact to fight in South America, get into the development program, get into the UFC, and now (we) have Brandon, who has been a champion various times, and I'm close to a title shot," Vera said. "To all the people who come over here, we simply tell them it can happen. The paths open, and the doors open for those who come from further down."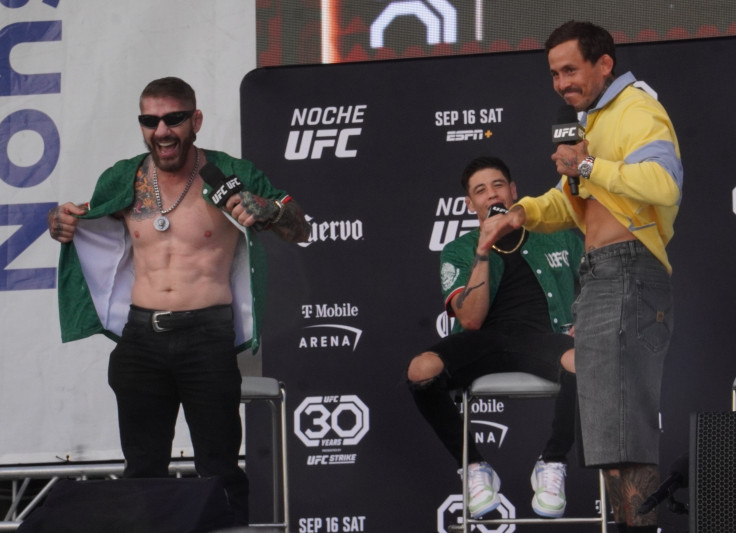 Moreno is from Tijuana, Mexico, and got his big break when he was a contestant on "The Ultimate Fighter," a show where fighters train with UFC veterans on two different teams. Only two fighters, each from two different weight classes, make the cut and earn a contract with the UFC. Moreno earned his contract in 2016 when he won The Ultimate Fighter.
Moreno had a professional record of 11 wins and three losses, and he went on to win his first fight in the UFC on Oct. 1, 2016, against Louis Smolka. About four and a half years later, Brandon Moreno made history on June 12, 2021, becoming the first Mexican-born UFC champion.
© 2023 Latin Times. All rights reserved. Do not reproduce without permission.