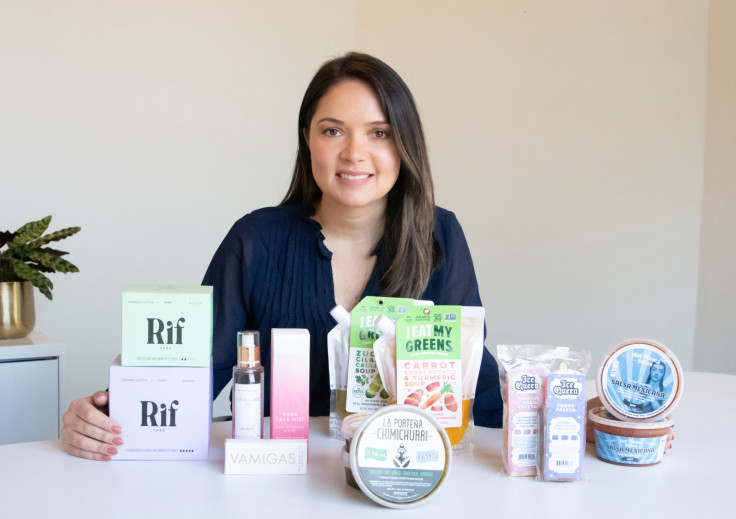 Brazi Bites, a company renowned for its Latin-inspired, gluten-free culinary delights, has announced the launch of the second edition of its Latino Entrepreneur Accelerator Program (LEAP) ahead of National Hispanic Heritage Month.
Following the success of 2022's inaugural program, Junea Rocha, the Co-Founder and CMO of Brazi Bites, has amplified this year's program, making it even bigger by giving entrepreneurs a chance to win a $10,000 business grant, a 12-week-long comprehensive mentorship, along with access to strategic partners across various business disciplines, including legal, public relations, creative, and more, at a value of $66,500.
The company was founded in the kitchen of husband-wife duo Junea Rocha and Cameron MacMullin in 2010, with the goal of bringing Cheese Bread (Pão de Queijo), a Brazilian household staple, to the U.S. market.
In 2015, Junea and Cameron presented their company on ABC's Shark Tank, following which Brazi Bites gained immense popularity and swiftly became a nationwide sensation, selling out in stores across the nation.
The Latino community has been a driving force in the creation of new businesses in the United States over the past 15 years and has created companies faster than any other demographic in the country. Approximately 4.6 million businesses in the United States are owned by Hispanics.
However, Latino entrepreneurs still face several challenges that hinder their chance at success during the critical aspects of their journey, including limited access to capital and difficulties securing corporate and government contracts.
Drawing from the invaluable mentorship experiences of the inaugural program's winner, Jessica Vicionte of La Porteña Foods, and the strong interest from Latino enterprises, Junea Rocha has doubled down her commitment to uplift and support deserving entrepreneurs this year. She aims to connect them with the right partners for guidance and counsel by leveraging her extensive network and expertise.
"Over the last decade we have built a network of industry experts around us that has been a crucial part of building Brazi Bites," Rocha said.
"Access to credible and knowledgeable experts is often beyond the reach of early-stage entrepreneurs, yet they can offer invaluable insights in order to strategically and sustainably scale. I'm thrilled to offer this year's Accelerator Program winner access to our incredible partners," she added.
Jessica Vicionte, the winner of its first Latino Entrepreneur Accelerator Program (LEAP), stated that it has been a privilege to get hands-on work experience with Junea and the team of Brazi Bites as the inaugural program winner.
"With their guidance and mentorship La Porteña has made tremendous progress over the last few months to strategically scale, including gaining distribution in several new retailers, bringing on a new distributor partner, and securing a meeting with a national retailer. The Program pushed me to work through some important questions, and I'm very grateful for the opportunity," she added.
This year, the Latino Entrepreneur Acceleration Program is accepting applications from Sept. 15 to Oct. 27, 2023. The chosen winner is set to receive the following rewards:
A $10,000 business grant.
A 12-week tailored mentorship program with Junea Rocha and her team, featuring one-on-one coaching, workshops, and alignment on business objectives, and more.
Public relations and influencer support worth $25,000 from Rachel Kay Public Relations, A FINN Partners Company.
Digital marketing and content creation support valued at $25,000 from SRW.
R&D support worth $10,000 from Culinex.
Branding consultation totaling $5,000 from Hughes Brand Hughes Brand Mix.
Legal counsel amounting to $1,500 from DWT.
Additionally, three finalists will be awarded a profile feature on Brazi Bites' website, along with social media, email, and press exposure. The announcement of the winner and finalists is scheduled to take place in January 2024, with the grant disbursement and mentorship set to follow in February 2024.
National Hispanic Heritage Month is celebrated annually from Sept. 15 to Oct. 15 in the United States. It is commemorated by celebrating the rich histories and diverse cultures, as well as recognizing the valuable contributions and achievements of Hispanic Americans.
The celebration was first observed in 1968 as Hispanic Heritage Week and was established during the tenure of President Lyndon Johnson. It was later expanded into a month-long celebration in 1988 by then-President Ronald Reagan.
© 2023 Latin Times. All rights reserved. Do not reproduce without permission.