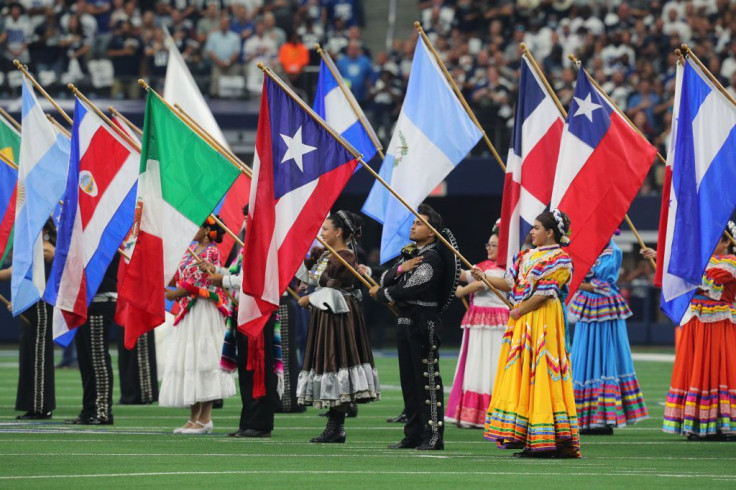 Although the term Hispanic Heritage Month is something that almost every resident in the US has heard more than once, explaining what this annual celebration means is much more complex than naming it, precisely because culturally it means a much deeper event than a few bunch of piñatas, tamales or folk dances in the streets.
From September 15 to October 15, Hispanic Heritage Month is a time dedicated to celebrating the contributions of the Hispanic communities living in the US.
With almost 64 million Hispanics living in the U.S., according to the Pew Research Center, this month-long celebration showcases some of the most cherished values of people from many origin groups from Latin America, Spain and Portugal.
This month's commemoration recognizes the way these communities have influenced, nurtured, contributed and shaped the present American culture, economy and society as a whole.
According to The United State Census Bureau, this celebration was first established in June of 1968 by California Congressman George E. Brown, who represented East Los Angeles and a large portion of the San Gabriel Valley—both heavily populated by members of the Hispanic and Latinx communities. Brown wanted to recognize the role played by those communities throughout American history.
From its beginning, Hispanic Heritage Month was originally observed as "Hispanic Heritage Week", but it was later extended to a month in 1988."The observation started in 1968 as Hispanic Heritage Week under President Lyndon Johnson and was expanded by President Ronald Reagan in 1988 to cover a 30-day period starting on September 15 and ending on October 15. It was enacted into law on August 17, 1988.
History. com underlines that "The push to recognize the contributions of the Hispanic community had gained momentum throughout the 1960s when the civil rights movement was at its peak and there was a growing awareness of the United States' multicultural identities".
And timing is central for this festivity curiously being split between two months of the US calendar -September and October- since it covers a series of milestones that cross part of the cultural diversity that the Latin community entails.
This month-long festive corridor covers different historical events among many Latin American countries' independence anniversaries, as also some important festivities and in Hispanic communities.
September 15 was chosen as the starting point due the beginning of Mexican Independence Day, celebrated on the night of September 15 and throughout September 16, when the Cry of Dolores or Grito de Dolores took place.This event triggered the start of the Mexican War of Independence which ended in the separation of New Spain (the colony made up of Mexico, Guatemala, El Salvador, Costa Rica, Honduras and Nicaragua) from the Spanish Empire in 1821. The Central America's countries celebrate Independence Day simultaneously on September 15. Mexico and Chile officially celebrate Independence Days on September 16 and September 18, respectively.
An American mosaic
Hispanics or Latinos are not a mere group of inhabitants of Spanish-speaking countries. American Hispanics are a huge group of citizens with a multifaceted and also intersectional identity -- regardless of race -- as they are a multicultural group crossed by categorizations of diverse origins and nationalities, creating sometimes overlapping systems of misrepresentations.
According to a Pew Research Center Report, in 2022, there were 63.7 million Hispanics living in the United States. The U.S. Hispanic population has diverse origins in Latin America and Spain. And more important, The vast majority of U.S. Hispanics are U.S. citizens. About 81% of Hispanics living in the country in 2021 were U.S. citizens, up from 74% in 2010.
And this means that this large diverse group in itself is not static either, but that its identity is being transformed over time, in an intrinsic relationship between its polyphonic backgrounds and its present that has been threaded between the North American social fabric too.
Because Hispanic month is also part of a calendar that includes many other celebrations that reflect the diversity and melting pot that makes up the North American population, such as African American History Month or Asian Pacific American Heritage. That is to say, the cultural mosaic that makes up the Hispanic community is also one more piece - albeit an important one - of a broader identity puzzle that is the United States, including many other cultures such as Asian, Indian or African-American among others.
That is to say, Hispanics as a community have a broad, diverse, often contradictory background, such as the encounter between the cultures of South America with those of the Caribbean or Spain, since many of these countries - with highly developed pre-Hispanic cultural legacies such as Indigenous cultures in Mexico, Peru, Bolivia or Guatemala already bring a whole series of identity diversity behind them. That is why when we talk about this kaleidoscopic, multicultural and multifaceted community, we talk about a wide prism of languages, traditions, religions, festivities, art and gastronomic practices, being synthetic.
And this month is when all that range of colors, flavors, musicalities and rhythms gain relevance, representation and meaning within a much broader experience such as being Latino, who continue to reconfigure a complex and even dual identity - especially for the generations already born in the USA -- and that today they are the ones who try to define -- in each of the annual Heritage Month celebrations- what it means to be Latino in the United States today.
© 2023 Latin Times. All rights reserved. Do not reproduce without permission.