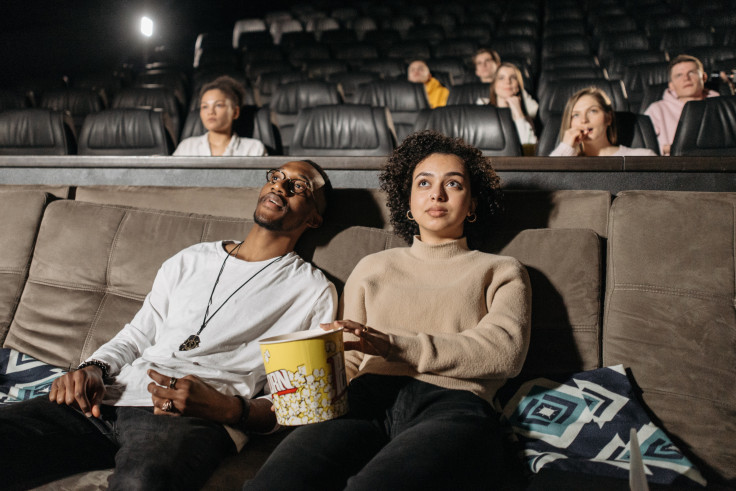 Palomitas, refresco and familia could all collide across the U.S. to celebrate National Hispanic Heritage Month from September 15 to October 15 at local theatres across major U.S. cities.
With one source citing that 29% of movie tickets sold are to Latinos, despite their underrepresentation in film, another study citing that Latinos go to the movies more often than other groups, and with the recent movie "Blue Beetle" starring a Mexican family, it's apparent that Latinos like movies.
With that, the Latin Times compiled a list of various film festivals in major cities across the U.S. this National Hispanic Heritage Month. Below are what various cities are doing to celebrate Hispanic Heritage through film.
New York City
Warner Bro's Entertainment presented their "New York Latino Film Festival" in New York City from Sept. 15 to Sept. 25, 2023, across various theatres. The first day of festivities is Friday, Sept. 15, 2023, with the premier of the film "Cassandro," by Roger Ross Williams, which is already sold out.
Sept. 19, 2023, is considered the opening night, starting the festival with the film directed by Aristotle Torres, "Story Ave," starring Asante Blackk, Luis Guzmán and Melvin Gregg. The film, set in The Bronx, follows Kadir, a young graffiti artist mourning his brother's passing, who turns to living a delinquent life. He tries to rob an MTA conductor, "Luis," which results in Luis giving Kadir all of his money on the condition they have lunch together. After speaking with Luis, Kadir realizes his graffiti skills could be an aid to help him live a better life.
In addition to various Latino-made films, the festivities include panels teaching beneficial skills for film enthusiasts.
Los Angeles
In the city of Angels, NewFilmmakers Los Angeles presents "NFMLA's Film Festival InFocus: Latinx & Hispanic Cinema Film Festival" in Hollywood, California, on September 23, 2023, from 1 p.m. to 10:30 p.m.
The featured speakers and moderators are Steven Vargas–LA Times, Max Cea–Esquire Magazine, Emily Uribe–Content Creator and Carlos Aguilar–The Wrap/LA Times.
The event begins with a program dedicated to the work of filmmakers from São Paulo, Brasil. According to the NFMLA website, these films explore life and death, grief and hope, changing landscapes, poverty and marginalization, resistance, joy and the echoes of the past. Following this, there are three more programs showcasing various short films created by Latin American filmmakers with different themes such as interdependence, the unexplainable and through the eyes of youth.
San Francisco
Alongside Southern California, Cine+Mas is hosting another "Latino Film Festival San Francisco" at a few different locations. The first location is at the Roxie Theatre on Sept. 28-Oct. 1 and Oct. 7 and 8. The second location is at Landmark's Opera Plaza Oct. 2-Oct. 8. The third location is at Mission Cultural Center Sept. 30 and Oct. 15.
The film festival showcases movies from Latin America, Spain and the U.S. In addition to the films, attendees can meet visiting filmmakers, attend filmmakers meet-ups, and attend receptions.
The featured films are "The Thickness of Dust" directed by Jonathan Hernández, "Plasticsphere" directed by Sergio Izquierdo, "100 ways to cross the border" directed by Amber Bay Bemak, "La Curandera Cumbiacher" directed by Ivan Flores, The Broken Glass Theory directed by Diego Fernández, and Ariel: Back to Buenos Aires directed by Alison Murray.
Seattle
Latinidad and sharing the cross-cultural perspective that comes with it is what the "Seattle Latino Film Festival" pinpoint as their focus. The event begins October 6, 2023, and for many days, more films follow until Oct. 14, 2023, in the greater Seattle area.
Seattle has a very diverse metro area, so some of these films extend to other neighboring cities of Seattle, with the first being in Renton, Washington, on Oct. 6, with a red carpet starting the night at 6:30 p.m. at Carco Theatre. The movie playing is titled "Undocumented (Sin Papeles)" by Christian de la Cortina. Mexican-Canadian actor Jorge Martinez Colorado will be attending the screening.
Undocumented (Sin Papeles) follows a Mexican man named Fernando who went to the U.S. to seek asylum. After spending six months in an ICE detention center, Fernando is released wearing an ankle bracelet in Vermont. From there, he finds a job and makes some friends, but before he knows it, Fernando is facing problems he uncomfortably has to deal with.
Boston
About 20% of Boston's residents are Hispanic, so accordingly, they celebrate with a Latino Film Festival for Hispanic Heritage Month. "Cinefest Latino Boston" shares on its website that through film, it wants to break stereotypes, bring cultures and communities together, and reveal the complex issues that affect the Latinx community alongside communities in Latin America and in Spain.
Festivities begin Sept. 27, 2023, and run until Oct. 25, 2023, beginning with "La Pecera" directed by Glorimar Marrero Sánchez. The film is set in Puerto Rico, and follows Noelia and her returning cancer as she tries to navigate how she can have a way out, so she goes to her hometown of Vieques, a Puerto Rican island. The island faces harsh contamination from past Army Operations, but that's the least of Noelia's worries when Hurricane Irma starts to approach the island. As the hurricane closes in, Noelia tries to find peace within the storm.
Washington D.C.
Those near the Washington D.C. area can come together with just a 20-minute drive to Silver Springs, Maryland, for the "American Film Institute Latin American Film Festival" at the AFI Silver Theatre and Cultural Center Sept. 21, 2023, through Oct. 12, 2023.
Alongside Latin American films, this festival includes films from Spain and Portugal, celebrating the Ibero-American cultural connections during Hispanic Heritage Month. Across the few weeks of the festival, those interested have 44 opportunities to enjoy the array of films, with the festival featuring 44 different films.
The first film is "Totem" directed by Lila Avilés, premiering Sept. 21, 2023, at 7:30 p.m., with a following question and answer session with the actor Mateo García Elizondo.
This film follows seven-year-old Sol, who helps her two aunts prepare the house for her father's birthday party. Although it's not her party, Sol's only wish is for her father to overcome terminal cancer and not die. But, as the day unfolds and Sol sees her father so sick, she begins to understand it is her father's last birthday.
Albuquerque
"Cine Magnifico Latino Film Festival" in New Mexico is on September 22, 2023, featuring two days of film celebrations, and all showings are free. All previously mentioned festivals are pay-for-entry events, but this one is good for families on a budget trying to catch a film and then lunch or for families who want to take their kids to watch movies all day for free.
The event is organized by Instituto Cervantes in Albuquerque. The films selected represent the current Hispanic topics that affect people who share this identity. The films reflect their mission of focusing on people, landscapes, and all the elements shaping the worldwide Hispanic community.
From 1 p.m. through 5:50, attendees can enjoy Latin American films. The first film is "Manuela" by Clara Cullen. This film follows a Latina nanny who connects with a two-year-old she's hired to watch over until she finds trouble when the girl's mother goes missing.
Georgia
"Georgia Latino Film Festival" is in Atlanta Sept. 21, 2023 through Sept. 24, 2023. This festival is produced and curated by Afro-Latinos, expecting around 1,500 independent actors, producers and directors in attendance. Alongside that, they plan to show 30 screenings of independent, international, animated, documentary, virtual reality, music videos and short films, with submissions from all over the country and around the world. Their website stresses that this event is not just for Latinos. They invite all Georgians who want to immerse themselves in Latino culture and know more about life across the Caribbean, Mexico, South America and Spain.
Portland
Oregon's "Portland Latin American Film Festival" runs a little longer than most other film festivals, from Sept. 28, 2023, through Dec. 7, 2023. During that time, the festival will feature six different films.
The first film is Over There/Allá, Cartas al Corazón, directed by Montserrat Larqué, who will attend to introduce the film and participate in a question and answer session after the screening.
This film follows the main character, Oscar, who returns to his remote hometown to find it's different than when he left. Upon arrival, he realizes there are no phones or any internet, just a few women still residing.
Gainesville
"19th Gainseville Latino Film Festival" is put on Gainesville Latina Women's League with eight days of film celebrations from Sept. 14, 2023, through Sept. 24, 2023. The first film on showcase is "Cabeça de Nego," a Brazilian film in Portuguese. This movie follows the universe of a public school in the northeastern state of Ceará is explored in its potential for social revolution.
© 2023 Latin Times. All rights reserved. Do not reproduce without permission.