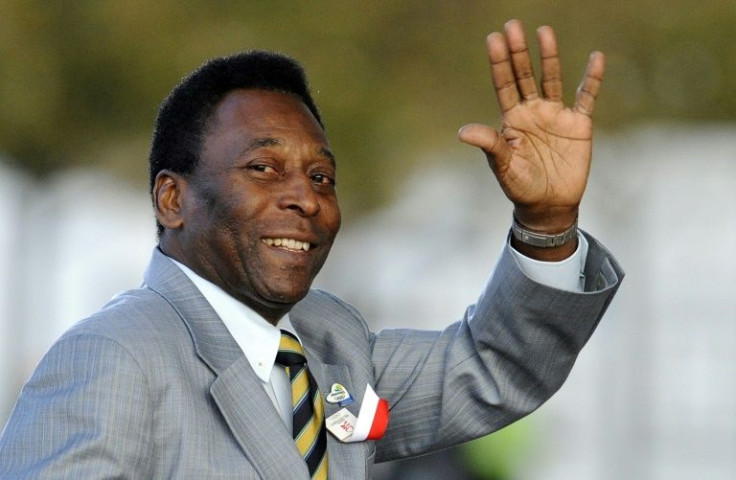 More than five months after the Brazilian football icon died from colon cancer, a mausoleum created for the golden coffin of Pele has opened for visitors.
The mausoleum, which is situated on the second level of a high-rise cemetery in Santos, a city west of Sao Paulo, opened on Monday.
It greets guests with two golden sculptures of Pele and an artificial grass field.
Images of spectators in a stadium with a never-ending cheering soundtrack may be seen on its walls, Al Jazeera reported.
Pele, who is regarded as one of, if not the greatest football player of all time, was laid to rest in January following a burial that attracted hundreds of thousands of visitors, including Brazilian President Luiz Inacio Lula da Silva, to Santos.
"This was made with a lot of love by people who knew him, who lived with him. It has the essence of what he was," Edson Cholbi do Nascimento, one of Pele's sons, was quoted as saying by the Associated Press news agency after a small ceremony with family and friends.
The only player to win the World Cup three times is Pele, who was referred to as "The King." He won the prized award three times, in 1958, 1962 and 1970.
Together with Diego Maradona of Argentina, who died in 2020, he shared FIFA's Player of the Century award in 2000.
Pele was also named "Athlete of the Century" by the International Olympic Committee in 1999.
Following his retirement in 1977, Pele worked as the "champion for sport" for UNESCO, a cultural agency of the United Nations, assisting in the global promotion of physical education.
As a goodwill ambassador, he additionally helped UNICEF, the UN Children's Fund.
He battled cancer for a long time before dying on Dec. 29 at the age of 82. The owner of the cemetery and planner of the mausoleum, Pepe Alstut, died in 2018.
"I am shaking. The energy of this place is surreal," Erica Nascimento, a tearful 42-year-old economist, told AP.
Former footballer Roberto Milano, 56, was also moved.
"He is part of my life," Milano said. "As we grow old, we need to follow the best role models. Maybe he was the biggest of them all."
Alstut envisioned that the mausoleum would be located on the ninth level, looking down on the Vila Belmiro Stadium, where Pele played for the Santos team for 18 years.
Instead, the player's family chose to bury him upstairs so that fans would have easier access.
A Brazilian dictionary added the adjective "Pele" to its list of words that describe the "exceptional, incomparable, unique" last month.
The Michaelis dictionary made the declaration as a result of a petition honoring the late footballer that garnered more than 125,000 signatures.
© 2023 Latin Times. All rights reserved. Do not reproduce without permission.