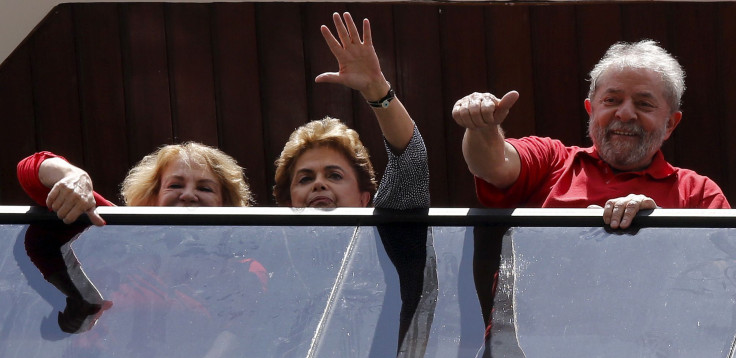 When former Brazilian President Luiz Inacio Lula da Silva, was taken into questioning last week for questioning in Brazil's vast Petrobras corruption scandal, fuel was added to the anti-government fire that has raged for over a year. On Tuesday, Lula accepted a ministerial post in current president Dilma Rousseff's cabinet, a move that will help shield him from future probes, Reuters reports. The announcement follows a historic weekend of protests, in which an estimated one million Brazilians took the streets, many calling for Dilma Rouseff to be impeached.
Rouseff has offered Lula a position in her cabinet, which would partially protect him in the ongoing graft and money laundering scandal investigation that has put dozens of politicians behind bars. Rouseff is Lula's protege in many respects, having advanced her career in Lula's PT (Worker's Party) and having won a ministry post during his presidency. On Monday night, Lula reportedly sought the support of vice-president Michel Temer.
The Petrobras scandal occurred under Rouseff's watch, while she was the chief of that state oil company when Lula was president. The money laundering scandal, known as Lava Jato or "car wash" resulted in millions of dollars of kickbacks to construction companies for billions of dollars of Petrobras contracts. Rouseff has denied any connection with corruption in the scandal, and there is little to no evidence implicating her. Rouseff's supporters have equated calls for her ouster as an attempted coup d'etat.
© 2023 Latin Times. All rights reserved. Do not reproduce without permission.