There will be strange things that most will see, including animals with abnormal births. One happened in Uttar Pradesh after a cow gave birth to a calf with two heads, four eyes and two mouths.
The whole thing happened at a village in Chandauli's district with a calf born at the home of Arvind Yadav on Sunday. The cow and the calf are both healthy and when word got out about it, people flocked to the area to see for themselves.
Yadav explained how he and the entire family were stunned to see the whole thing last Sunday. They called it a wonder of nature but some branded it as a divine miracle.
Unfortunately, veterinary doctors did not share the same sentiment. Rather, they explained that this normally happens due to the abnormal development of cells during embryo development.
"During the development of the fetus in the womb, cells divide into many parts and during this process sometimes there is an additional development of cells. This is why two heads form," Dr. Satya Prakash Pandey, Chief Veterinary Officer of Chandauli explained.
This comes roughly two months after another two-headed calf was born in North Macedonia. In a report from Reuters, it was explained that this happened because the baby cow had a condition called polycephaly, a reason why the calf had two skulls, two pairs of eyes and a pair of ears.
According to a farmer, Vasko Pestrovski, he already knew something different after the calf was born at his barn in Lazec.
"Early in the morning we heard that the cow was about to deliver. When she delivered, we saw the calf was rather extraordinary, with two heads," he stated. "We immediately called on the veterinarian, he came and said it was a very natural phenomenon. The calf is functioning normally."
Pestrovski plans to keep the calf alive for as long as he can. Unfortunately, veterinarians claim that animals with polycephaly have a small chance of survival.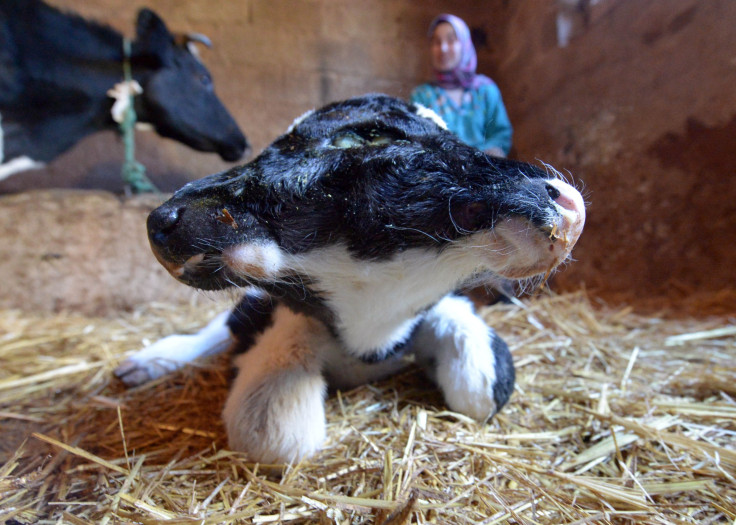 © 2023 Latin Times. All rights reserved. Do not reproduce without permission.