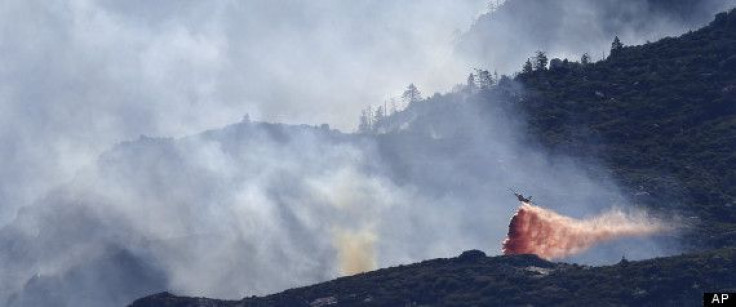 The Southern California fire that has destroyed at least 26 homes and threatened more than 500 others in the San Jacinto Mountains has reached a containment level of 75 percent. The blaze broke out Wednesday and has since injured 10 firefighters. Fire officials expect 100 percent containment of the destructive fire located in Banning, Calif. by Monday, the Associated Press reported.
The Silver Fire stopped advancing Saturday after destroying 19,400 acres of land. The fire closed campgrounds and trails, at one point requiring the evacuation of up to 1,800 people, with about 800 of those being campers. Evacuations are still in effect for several communities surrounding the blaze.
Gov. Jerry Brown declared the inferno an emergency and allocated more funds to combat it. It was expected to be contained by Sunday, according to Riverside County fire's Jeff La Russo, but inaccessible terrain delayed containment. More than 1,840 firefighters are working on the blaze. The cause of the fire remains under investigation.
"We're getting to the point now where we've got enough containment," La Russo said. "Without a major weather pattern change, we're not expecting anything to get further out of hand."
© 2023 Latin Times. All rights reserved. Do not reproduce without permission.