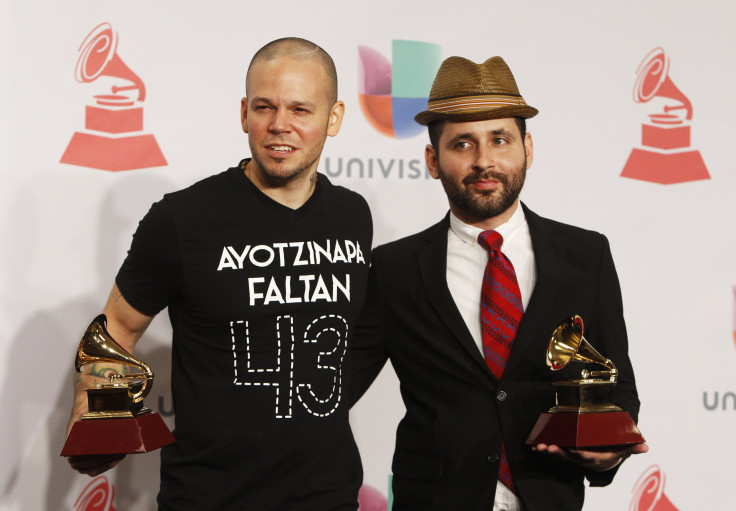 Protesters continue to voice their indignation about the disappearance of the 43 students from Ayotzinapa, which is why the leader of Calle 13 lent the microphone to the parents and relatives of the students in a concert in Mexico City. "It's so hard, even I feel it as an outsider, I truly hope this never repeats itself in any other country of the world," said singer René Pérez, who continued to express his "absolute and genuine support, even though some don't like the fact that I spoke about the case."
"We have always defended social causes, even before Calle 13, because that's how we were raised since we were little, and those are the values our parents instilled in us," said Pérez before bringing a group of the missing student's relatives up onto the stage. The mother of one of the students did not mention her son's name, however she complained about the few and vague results the federal investigations have provided since last September 26, when the attack on the students occurred, presumably by the police from Iguala and Cocula, as well as an organized crime group.
"Up to now, nor the government of Guerrero nor the federal government have given us straight answers. They're feeding us nothing but lies," said the woman. "We won't rest until we find them alive because we know they're alive and we're going to keep fighting. We don't one of you young ones, to be number 44," she continued amongst shouts of support from the concertgoers.
Student César Manuel González's father asked Attorney General, Jesus Murillo Karam to step down, "If he's 'tired already', he should quit," and continued by asking, "Are we going to continue tolerating the abuse for which these parents and thousands of people are suffering?"
© 2023 Latin Times. All rights reserved. Do not reproduce without permission.