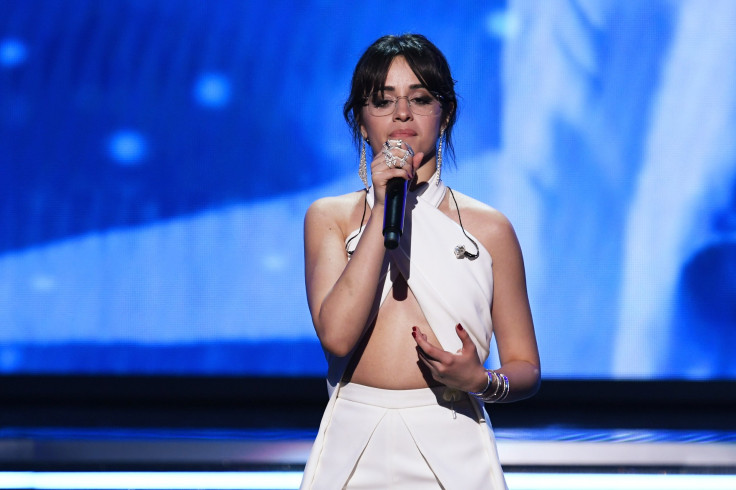 Camila Cabello had an epic moment at the Grammys 2018 when she took the stage to present U2 and delivered a powerful speech about what happens when an immigrant gets the chance to come to the U.S. and chase the American dream. Cabello's spotlight was highjacked when cameras captured Blue Ivy shushing her parents, Beyoncé and Jay-Z, after the applauded the "Havana" hitmaker's words. Camila is now breaking her silence on her thoughts about that moment.
"What does that mean? I was like I'm not going into this wormhole. Do you think that she didn't like my speech?" she told Nick Grimshaw during a BBC Radio 1 interview. "I feel like she would like me. Kids like me. Thank God that I didn't look down. Just seeing them there, I would have been like, 'Wow.' " Watch the interview below and tell us what you think!
Camila Cabello identifies with the DREAMers movement as she is also an immigrant that was given a shot at the American dream. "Tonight in this room full of music's dreamers, we remember that this country was built by dreamers, for dreamers chasing the American dream," she said at the Grammys. "I'm here on this stage tonight because just like the DREAMERS my parents brought me to this country with nothing in their pockets but hope. They showed me what it means to work twice as hard and never give up. And honestly no part of my journey is any different from theirs."
"I am a proud Cuban-Mexican immigrant born in Eastern Havana standing in front of you at the Grammys stage in New York City (audience erupts in applause) and all I know is just like dreams, these kids can't be forgotten and are worth fighting for."
.@Camila_Cabello showing her support for the #dreamers, and introducing @U2 at the #GRAMMYs. pic.twitter.com/zllxMAQgEy

— Mike Adam (@MikeAdamOnAir) January 29, 2018
Cabello's words came after Donald Trump said he would approve citizenship to DREAMers only if the border wall is approved. The White House advanced on the proposals that Trump will present to the Senate. "We're going to morph into it," Trump said of citizenship. "It's going to happen — over a period of 10 to 12 years. If somebody's done a great job and worked hard, it keeps the incentive to do a great job. ... I think it's a nice thing to have the incentive, after a period of years, of being able to become a citizen."
White House press secretary Sarah Huckabee Sanders said the new White House immigration deal for some "Dreamers" actually "represents a compromise that members of both parties can support. We encourage the Senate to bring it to the floor."
According to official information, Trump would allow an estimated 1.8 million undocumented immigrant and DACA recipients to have access to citizenship, in exchange for the approval of the following requirements:
Approval for border wall funds: The president requested 25,000 million dollars in a fiduciary fund for the border wall, as well as additional resources to hire personnel for the Department of Homeland Security, including lawyers, immigration judges, prosecutors and border security officials.
Elimination of the visa lottery: Trump proposes that the 50,000 green cards that are delivered each year remain in the past. The pending visas will be distributed until the last one is granted to those who are on the waiting list.
Restrict residency requests to spouses and children: On requests for residence for family members, it states that they are limited to husbands and unmarried children under 21 years of age. Excludes parents.
Beneficiaries must study and have no criminal record: The White House said that the status could be subject to revocation if "Dreamers" don't seek or have employment and education, and have committed crimes.
© 2023 Latin Times. All rights reserved. Do not reproduce without permission.