Cardi B was recently filmed hollering at a volley of cops for detaining Offset on the grounds of 'waving guns at people' at the MAGA rally in Beverly Hills on Saturday, Oct. 24.
'That's my husband! Why are you pointing a gun at him?' she yelled, as per a media outlet. The 28-year-old had to be physically restrained (by a friend) as she became hysterical while imploring the police to release her husband.
Kiari Kendrell Cephus, aka Offset, was cuffed by cops later that evening after his anti-social gimmick at Trump supporters as he drove past a rally in the locality.
The viral footage live-streamed by Offset himself sees the man refusing to comply with the cops' orders upon being asked to exit his car. "I'm not going to move my hands from the steering wheel," said Offset, as per the clip, which went viral on Instagram.
Offset's brash behavior didn't go unnoticed, as he could be heard telling officers in the clip: "I'm a f**king celebrity, do you know who I am? I'm Offset from [hip-hop trio] Migos." He further added, "You told me to put my hands up, I'm not doing that. There are 25,000 people [watching] on my Livestream. You're gonna get sued publicly."
This is when a cop is seen trying to reach into Offset's car and open the door from the inside.
"You can't do that! It's not legal!" Offset roared, adding, "I'm gonna sue the s**t outta you. Ya'll know who I am?"
He eventually gave in, as one of the officers opened the car's doors. He was then questioned by the police.A separate video shows him being placed into handcuffs as a crowd of Trump supporters looked on.
As per police reports, an activist at the Trump rally reported that someone pointed a gun at those at the event. The rapper was later released without charges. On the other hand, Cardi B's cousin Almanzar was arrested and charged with gun offenses only to be released on Saturday night with a $35,000 bail.
Cardi B and her husband have been in an on-again, off-again relationship ever since they tied the knot in 2017. The two artists are parents to Kulture, a two-year-old. Cardi B later visited the Hermes store with her husband, the next day, and Instagrammed their outing while suggesting how the two were "spoilt" at the luxury store.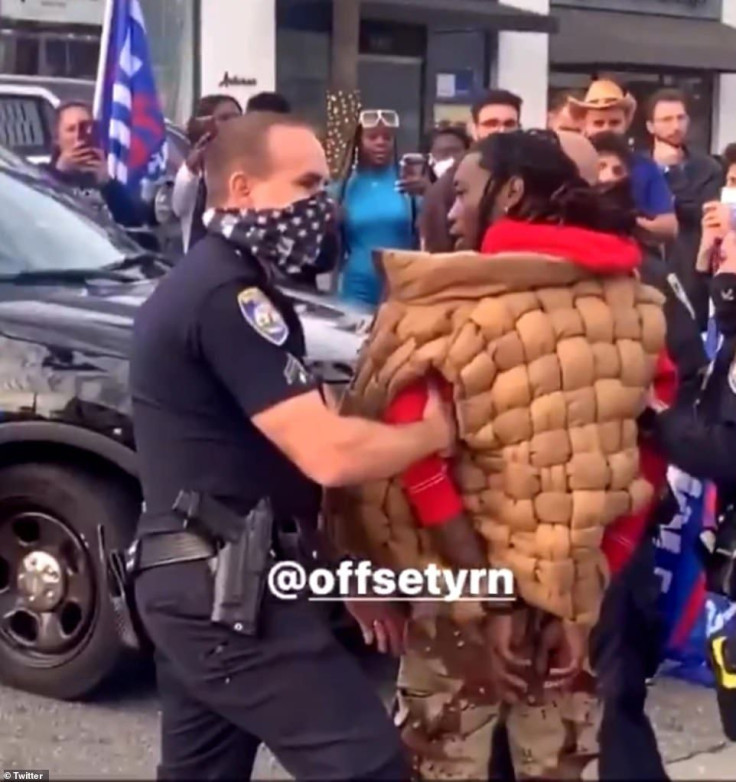 © 2023 Latin Times. All rights reserved. Do not reproduce without permission.