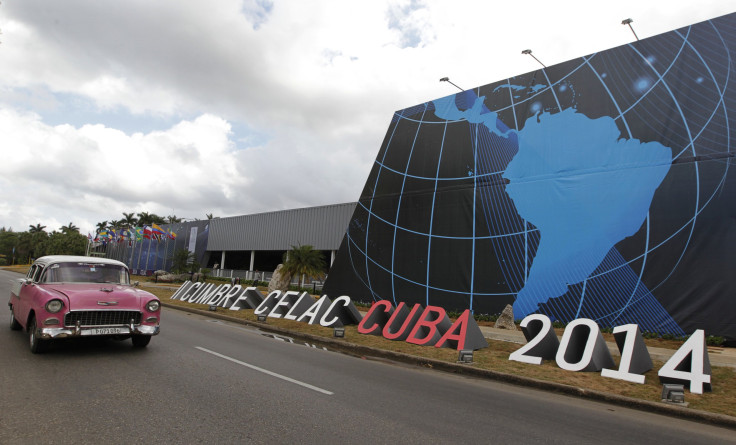 The Associated Press reports that heads of state from across Latin America and the Caribbean have begun to arrive in Havana, Cuba for the second summit of the Community of Latin American and Caribbean States (CELAC). The summit -- which excludes leaders from the US, Canada, and overseas European territories -- is the first since the death of former Venezuelan president Hugo Chávez, who led efforts to organize an alternative to the Organization of American States (OAS) regional bloc, long seen by leaders in the hemisphere as being disproportionately responsive to US interests. This year, Venezuelan President Nicolás Maduro is expected to extend an invitation to Puerto Rico to join the bloc as well.
The Guardian reports that a total of 32 heads of state are expected to show up in Havana for the summit, as well as UN Secretary General Ban Ki-moon. At the top of the agenda are poverty and inequality -- the latter an ill which has long been associated with Latin America -- but it's expected that the topic of trade and migration, among other themes, will be handled. Uruguay's El Observador writes that Uruguayan president José Mujica, whose international profile got a big boost from his speech at the first summit in 2011, intends to push for the completion of ongoing peace negotiations between the Colombian government and FARC rebels. He says he'll stick around after the summit for a few days in an attempt to help broker the talks, which are taking place in Havana.
The AP notes that many of the CELAC member countries -- even those governed by US allies like Colombia -- were spurred to join in on Chávez's proposal in reaction to the longstanding exclusion of Cuba from the OAS. That exclusion ended in 2009 after the US gave approval to its re-inclusion, but the Cuban government spurned the invitation on the grounds that the regional bloc remained a tool for US dominance in the region. Rivalries within CELAC persist, with the first summit doing little to cool tensions between Venezuela and Colombia or Uruguay and Argentina.
© 2023 Latin Times. All rights reserved. Do not reproduce without permission.