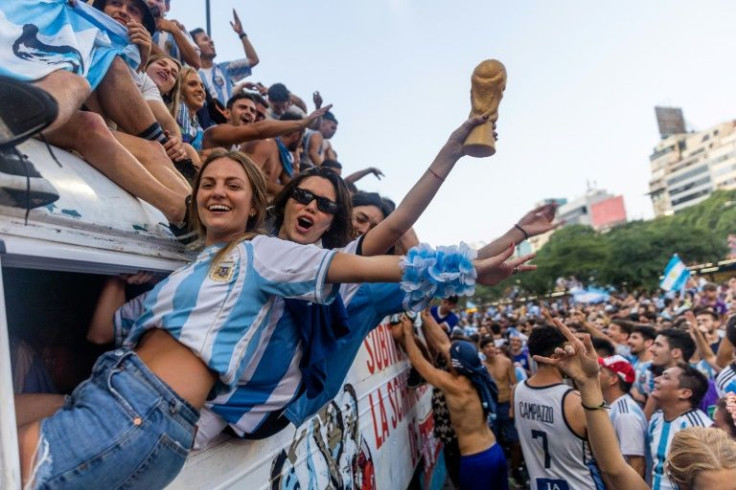 The World Cup final had it all -- a storied matchup between Argentina and France, two of the game's best players in Lionel Messi and Kylian Mbappe. And in the end, after 120 minutes that included extra time and penalty kicks, Argentina hoisted the World Cup trophy, for the third time.
And Messi, arguably the greatest player of all-time had his World Cup championship.
As soon as the PK's were done, all sorts of emotions were set free throughout the world. Here are some of the best.
Superstar singer Bad Bunny was quick to celebrate upon watching the end of the penalty kicks.
Iconic broadcaster Andres Cantor could not contain tears of joy when announcing on Telemundo, 'Argentina campeón del mundo,' immediately after Montiel fired in the definitive penalty shot. Cantor later said that he waited 36 and a half years to say that phrase, bringing about a flood of emotion.
A drone view from the Obelisk in downtown Buenos Aires.
And London.
Even in Bangladesh, where support for Argentina goes back to Diego Maradona's days.
Washington D.C.'s National Monument was also a scene of celebration.
Here's a worldwide snapshot of the celebratory moments.
Even on a plane, mid-flight.
Players also know how to celebrate, as documented by Sergio 'Kun' Aguero, former Argentina player who retired from football due to a heart condition.
With players arriving in Argentina on Tuesday, expect a monumental celebration.
© 2023 Latin Times. All rights reserved. Do not reproduce without permission.