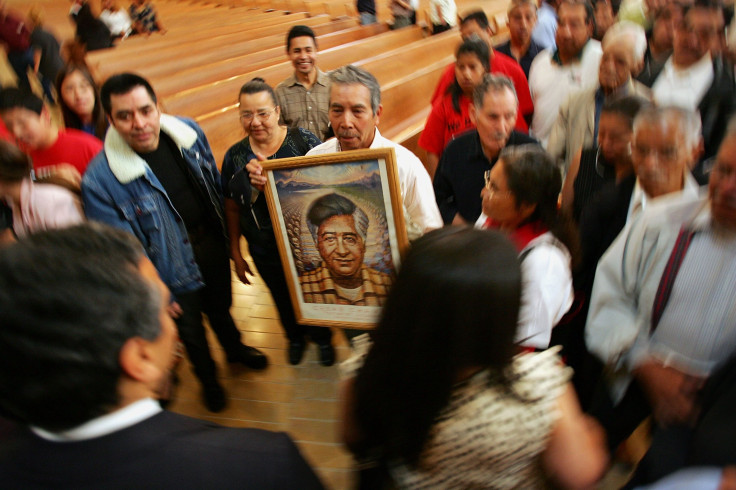 If you're going by Diego Luna's film about Cesar Chavez, released last year to coincide with the Latino and labor-rights hero's birthday, the one knock against Chavez might be that he was just too noble. The image is easy enough to puncture in the ordinary ways (he was a less-than-stellar strategist and a bit of a philanderer). But his enmity toward undocumented workers, whom he often equated simply and unreservedly with strikebreakers, might deserve to be treated more extensively.
Dolores Huerta, co-founder of the National Farmworkers Association, has disputed the idea that Chavez reserved scant pity for those without papers. "That's totally not true," she told Fusion, pointing to Chavez's work to end the bracero program in the early '60s. "A lot of the braceros were being exploited. In my hometown of Stockton, California, I saw paychecks for people who had worked two weeks, and they got $16."
"A lot of people in our organization were undocumented. The one thing that Cesar was against -- and he would say this -- 'if my mother would break the strike, I would be against my mother' … Even in today's world, the agricultural farmworkers who are under union contract get the same benefits whether they've got papers or not."
But two UFW projects cast doubt on Huertas' claim that Chavez's disdain for undocumented workers was limited to strikebreakers.
Probably the most severe example came in the form of the so-called "wet lines." As Miriam Pawel, a Pulitzer-winning editor and longtime journalist with Newsday and the Los Angeles Times, notes in "The Crusades of Cesar Chavez," the wet lines were set up by Chavez's close cousin Manuel, who in 1974 paid about three hundred United Farm Worker members to patrol a stretch of the border between Yuma, Arizona and San Luis, Mexico. They were intended to intercept unauthorized crossers en route and persuade them to turn back, thereby forcing the hand of lemon growers who were resisting a UFW strike for contracts. "If we can get the illegals out of California," he would often say, "we will win the strike overnight."
The patrols turned violent quick. Stories began surfacing in papers on both sides of the border about crossers being beaten and even robbed. Mexicali's La Voz wrote that thirty-seven people were attacked in all -- possibly a fraction of the actual total, since as Pawel notes, unauthorized crossers were usually loathe to report crimes to the police. Meanwhile, the UFW bribed Mexican officials in San Luis to patrol their own side of the border for people heading north.
There was also the Illegals Campaign, a central piece of strategy which saw the UFW direct members to report the presence of undocumented immigrants in the fields and turn them in to the Immigration and Naturalization Service (INS), the agency which preceded Customs and Border Protection (CBP). In East Fresno alone, Cesar bragged in 1974, twenty-two hundred undocumented workers had been identified through the Campaign. Michael Harpold, who spent 35 years patrolling the border with the INS, says he remembers meeting Chávez in 1965 near Delano, California. "He explained that the growers would break his striking union if we did not prevent them from hiring illegals; he would provide us carefully screened information to act on."
© 2023 Latin Times. All rights reserved. Do not reproduce without permission.