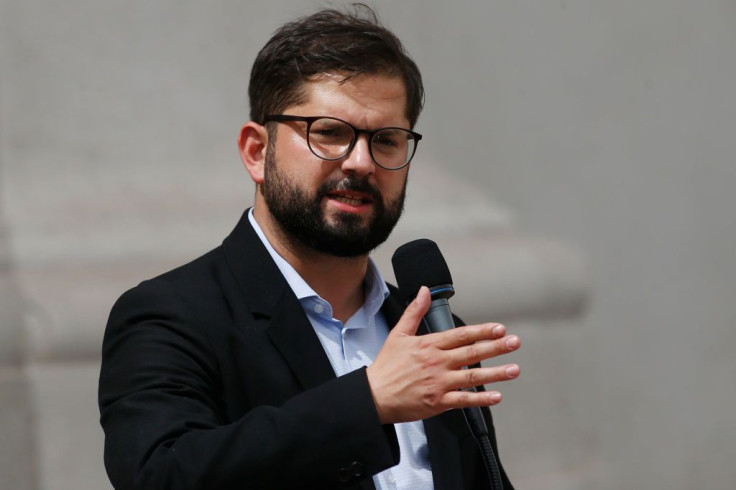 Chile's President Gabriel Boric has once again reorganized his cabinet after continuing to face low approval ratings.
The reorganization--third one since Boric came into power a year and a half ago--saw Aurora Williams replacing Marcela Hernando as the mining minister, reported Bloomberg. Suina Chahuan will no longer be the cabinet chief at the economy ministry, but will work as Williams' number two. The lawyer and political adviser is also replacing Willy Kracht as undersecretary.
On Wednesday, the president also named new heads of other departments. Javiera Toro will take over the role of the social development minister from Giorgio Jackson, who had resigned last week as authorities probe his party's role in multimillion-dollar transfers of public funds. Toro was Chile's national assets minister, Reuters reported.
The cabinet change showed that Jackson's Revolucion Democratica party has become weak now, said Mauricio Morales, a professor of political science at Chile's Universidad de Talca.
Other changes included Nicolas Cataldo, who previously worked in regional development, replacing Marco Antonio Avila as the head of the education sector, which showed signs of suffering after schools closed during the COVID-19 pandemic.
During a televised speech, Boric said, "I invite the ministers to consolidate our national lithium policy and to continue to maintain Chile's global mining leadership," and added he would have liked this "cabinet change to take place in a different political climate."
He also called on political parties to resume discussions over proposed tax and pension reforms.
The cabinet reshuffle comes as Boric's approval rating fell four percentage points in the past month to 32%, as per pollster Criteria.
The survey also showed that corruption has become one of voters' main concerns apart from crime, inflation and health care.
Meanwhile, the country's mining sector is seeing a major change since Boric's government announced a plan in April to boost state control of Chile's vast lithium reserves. It is seen as key to the transition away from fossil fuels.
The president has faced several legislative defeats in Congress. One of his major setbacks came in March when lawmakers refused to go ahead with a proposed tax reform that was meant to finance key elements in his progressive agenda. The proposed tax reform aimed to gather up to 3.6% of gross domestic product.
© 2023 Latin Times. All rights reserved. Do not reproduce without permission.