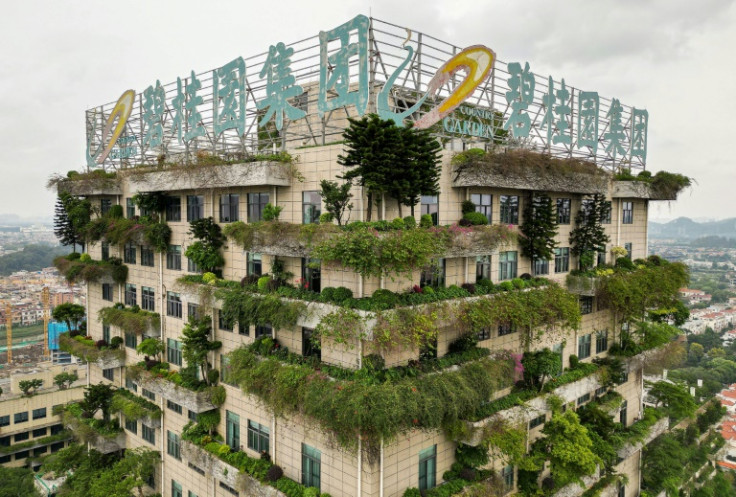 Debt-saddled Chinese property giant Country Garden said Tuesday that it did not expect to meet all of its offshore payment obligations in time as it battles to avoid default.
In a filing with the Hong Kong Stock Exchange, the firm said it "expects that it will not be able to meet all of its offshore payment obligations when due or within the relevant grace periods".
"Such non-payment may lead to relevant creditors of the Group demanding acceleration of payment of the relevant indebtedness owed to them or pursuing enforcement action," the firm warned.
The property giant also said it had not been able to repay a debt of HK$470 million ($60 million).
It promised to develop a "holistic solution in a fair and equitable manner" in repaying its debt obligations.
To that end, it said it has hired financial advisors "to evaluate the capital structure and liquidity" of its subsidiaries.
"The Company intends to continue to cooperate and engage in dialogue with all creditors to reach a feasible solution as soon as practicable," it said.
It went on to ask "for patience from creditors" as it seeks to "assess the current challenges".
Many leading Chinese property developers have come under increasing financial pressure lately, with their astronomical levels of debt bringing bankruptcy concerns to the fore in a sector already damaged by the coronavirus pandemic and a broader economic slowdown in China.
Country Garden -- one of China's biggest property developers -- had racked up debts estimated at 1.43 trillion yuan ($196 billion) by the end of 2022.
Moody's last month downgraded Country Garden's credit rating to indicate that its obligations are "highly speculative" and at high risk of default.
Its cash flow problems have ignited fears that it could collapse with consequences for China's economy, which is already suffering from record-high youth unemployment, flagging consumption and a broader crisis in the real estate sector.
Country Garden has four times as many projects as its rival Evergrande, which defaulted in 2021 and prompted protests and monthly payment strikes last year with its shutdown of construction sites.
Any halt to construction work presents the risk of social instability in China, where homeowners often pay for a property before ground is broken.
On Tuesday the firm stressed its "top operational priority... is to ensure deliveries" of properties.
Like Evergrande, which holds debt adding up to more than $300 billion, any collapse of Country Garden would have catastrophic repercussions on China's financial system and wider economy.
© 2023 Latin Times. All rights reserved. Do not reproduce without permission.