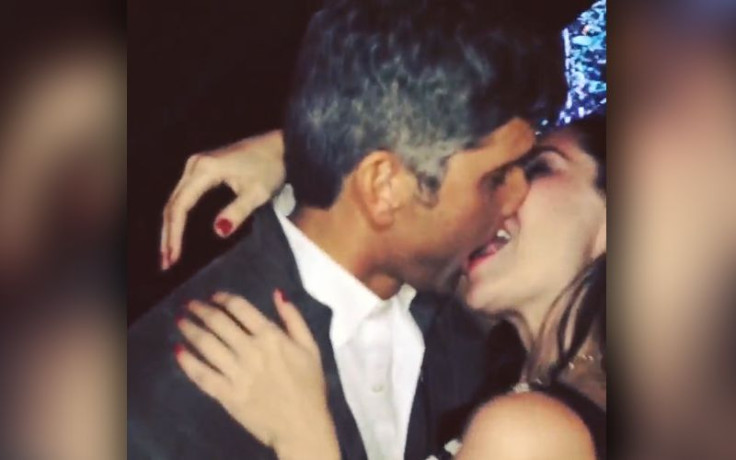 Apparently three alternative endings to "La Malquerida" were not enough and fans wanted a different finale. Fans of the telenovela starring Victoria Ruffo, Ariadne Díaz and Christian Meier were seemingly divided. Some were on Cristina's side and some liked the chemistry between Díaz and Meier that played daughter and step-father. None of the alternate finale's imagined an ending where Esteban and Acacia could fulfill their love. The actors took it upon themselves to record a video for followers named "Estecias" and gave them what they wanted. During the wrap party, Díaz and Meier shared a very hot and steamy kiss in the impromptu telenovela finale. This began the rumor if the actors were actually a couple as it has been speculated. This scene was not in a studio and it looks like Ariadne slipped in a little tongue action there. Watch the "alternate" finale down below and tell us what you think!
The finale that aired on television had Acacia visiting Esteban in jail and telling him that she was over him and that he only took advantage of her into making her believe that she loved him. "I came to tell you that I don't love you and I've never loved you," Acacia tells Esteban. Cristina is prepared to sell off La Benavente. Hector gives her an airplane ticket to go catch up to him in Europe. Acacia tells Ulises that she's always loved him as he plans on leaving. They both share a kiss. Acacia and Cristina have forgiven each other as the love they have for one another is more powerful. The alternate endings imagined each of the main characters dead. In the first one, Esteban died and Cristina and Acacia forgave each other. In the second ending, Acacia died, leaving Cristina by herself and still selling off the ranch. The third finale had Cristina dying with a possibility that she could end up with Ulises in the future
© 2023 Latin Times. All rights reserved. Do not reproduce without permission.