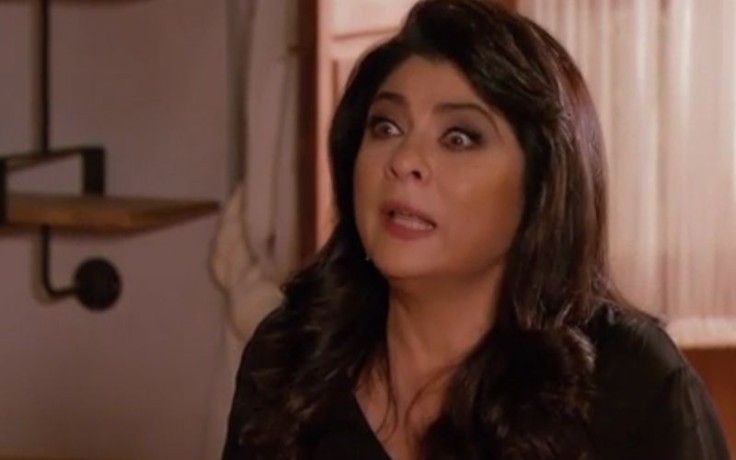 "La Malquerida" is wrapping up and the biggest bomb just dropped! Acacia (Ariadne Díaz) has revealed to her mother Cristina (Victoria Ruffo) that she had feelings for her step-father Esteban (Christian Meier). Spoiler Alert! Spoiler Alert! At the end of Episode 115, Cristina goes in to apologize to her daughter Acacia for being so blinded by Esteban. Cristina found out that Esteban ran away with a load of money and she feels guilty because part of that money was Acacia's patrimony. Acacia tells her mother Esteban planned to run away with her with that money. Acacia has all the gifts Esteban had given her on her bed and Cristina questions what they are. She tells her that they were going to be used as proof that Esteban loved her, but they only remind her of her sin.
Cristina is compltely confused because she believes her daughter is innocent. Then the next words will have your jaw drop down to the floor. "Yes mother, I accepted Esteban's love," Acacia tells Cristina. This is the set up for the final episode and a cliffhanger that will have us glued to our television screens on Sunday night. All this last week of episodes have been intense and it all started when Cristina found out that Esteban had feelings for Acacia. She gave him a good beating that he will never forget, slapping and smacking him silly. Then Acacia told her ex-boyfriend Ulises that she was not that innocent and was not indifferent to Esteban's love. How will Cristina react to the news that Acacia fell for her step-father? Will she forgive her or reject her from her life? As we wait for the finale, watch the amazing scene down below!
© 2023 Latin Times. All rights reserved. Do not reproduce without permission.