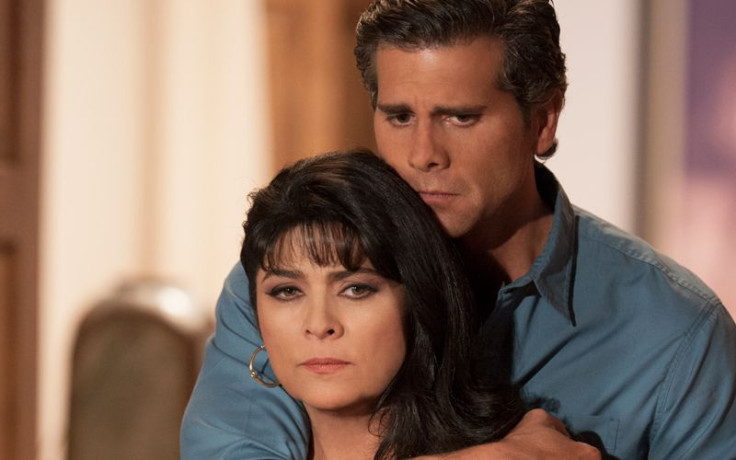 "La Malquerida" will air its final episode tonight in México and we're already missing it. The telenovela starring Victoria Ruffo, Ariadne Diaz and Christian Meier was controversial right from the beginning. Based on the Jacinto Benavente classic, with an adaptation by Ximena Suarez, the story follows a young woman at odds with her mother over a man. Acacia grew up away from her mother's side after Cristina remarried the foreman soon after she became a widow. Acacia always held resentment for this man, but when she returns years later she starts developing feelings for him. Esteban follows his desire for his wife's daughter and will do anything to have Acacia, even kill. Cristina throughout the whole series was blinded by her love for Esteban that she did not see her daughter falling for him, which only makes this last week of episodes more exciting.
With the telenovela wrapping up, all the truths are out there and these are the 5 reasons you can't miss the finale! 1. Cristina's Reaction To The Truth: On Friday's episode we finally witnessed Acacia confessed to her mother that she accepted Esteban's love advances. Cristina all this time thought that Esteban was just being a creeper after finding out he had feelings for her. What will Cristina do? Will she forgive Acacia for acting on this feelings? How long will it take for Cristina to forgive her daughter? Could it be worse? Maybe Cristina doesn't let go of Acacia's betrayal and never wants to speak with her again. 2. Acacia Fallout: With Acacia revealing the truth, everyone is going to see her as a dirty skank. Everyone is going to judge her for doing that to her mother. Ulises want's nothing to do with her. The sweet and innocent looking Acacia will be seen as the devil and we can't wait to see that.
3. Esteban's Punishment: Esteban has been a creeper since the beginning and we will finally see him pay for being a killer. Not only did he betray his wife Cristina, he killed her husband. He then later seduces her daughter and cheats on his wife with her. He's a bad, bad man and we thought Danilo the pimp was horrible. His punishment is something we will enjoy. 4. Alejandra's Wedding: As far as we know Alejandra is "La Malquerida" as this telenovela focused mostly on her. With Danilo out of the picture and German by her side, she deserves to be happy with him and have a dream wedding. 5. Luisa Get It Together: Luisa has been a lost little soul throughout this whole series and we hope she finds the happiness she deserves. "La Malquerida" will air its final episode on Sunday night and stateside will be broadcasted sometime in January on Univision.
© 2023 Latin Times. All rights reserved. Do not reproduce without permission.