In Latin America, Christmas is a huge deal in the home, and the occasion centers around food. No wonder, it's almost impossible to chance upon a dinner table not teeming with Christmas dinner side dishes, festive staples and decadent desserts during this season. Here are 12 Christmas dinner side dishes you can make for your family for the holidays:
Colombian ajiaco: The Colombian ajiaco is a chicken and potato soup made with corn on the cob, cilantro, and guascas, a type of herb from the daisy family that is commonly used in Colombian cuisine. This seasonal soup is full of root veggies and is very popular in the region surrounding Bogota. Get the recipe here.
Arroz con dulce: Probably one of the easiest Christmas dinner side dishes you can make, arroz con dulce is basically rice pudding or rice candy spiced with cinnamon and sweetened with raisins. This sticky sweet coconut rice treat is a great way to end a holiday meal. Get the recipe here.
Chicharron: Christmas dinner side dishes won't be complete without the addictive chicharron, a deliciously crispy, flavorful and spicy starter that you can make at home. Made with the perfect fried pork skin, this recipe is more of a labor of love and takes usually 13 hours to prepare. Get the recipe here.
Puerto Rican Cornbread: While this Christmas dinner side dish is most common in the U.S., versions of it are already common in Latin America as well. Unlike southern cornbread, the Puerto Rican cornbread is sweet and moist and is made with a rich base of milk and butter. Get the recipe here.
Christmas ponche: Just like in most parts of the world, homemade fruit punch is also a crowd-pleaser in Latin America. However, the Mexican ponche is different from other punches since it's kind of a snack too. This warm and comforting fruit punch is made with apples, pears, oranges and guavas and is rich in cinnamon, clove, tamarind and hibiscus spices. Get the recipe here.
Arroz con gandules: Another Puerto Rican favorite, arroz con gandules is popular in Latin American countries during Thanksgiving and the Christmas season. This is basically a rice dish with pigeon peas, seasoned with bacon and chicken stock for added flavor. Get the recipe here.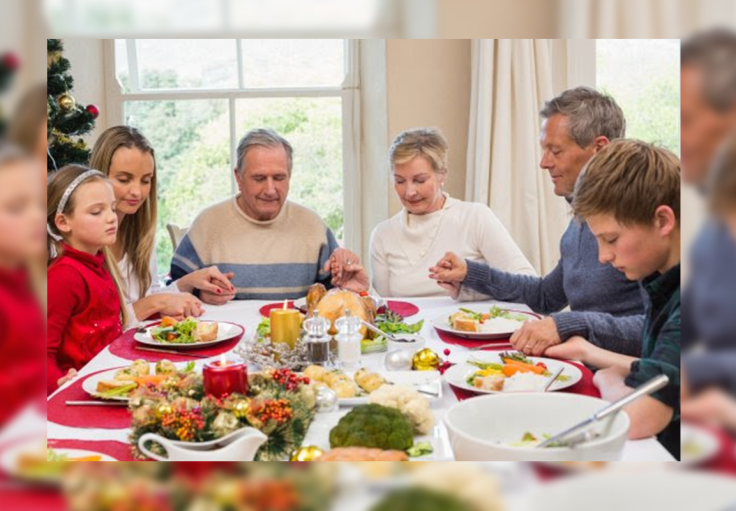 Colombian banuelos: Although Colombian banuelos are enjoyed all year round, they are also an iconic food for the holidays. This easy-to-prepare Christmas dinner side dish is made with white flour, corn flour, cassava flour, or mashed cassava, and can be either sweet or savory. Get the recipe here.
Pao de Queijo: This Christmas dinner side dish is a common alternative for standard dinner rolls. It is basically Brazilian cheese bread made with tapioca flour instead of wheat flour, making it good for those with wheat intolerance. Get the recipe here.
Mexican Christmas salad: This salad is special as it features a mixture of fruits and vegetables. In Mexico, its ingredients include beets, jicama, oranges, and apples. Get the recipe here.
Puerto Rican pastelillos: Puerto Rican pastelillos are savory pies filled with meat and characterized by their flaky dough. Just like the traditional empanadas, they also include potatoes, olives and bay leaves. Get the recipe here.
Brazilian-style flan: The Brazilian flan is one of the most delicious Christmas dinner side dishes in Latin America. Widely known among Latinos as the pudim de leite, it is a creamy flan made with eggs and sweetened condensed milk. Get the recipe here.
Argentinean pan dulce: Commonly served during the Christmas season in Argentina, this popular side dish is similar to Italian panettone, only that its yeast-based bread is eggy, richer and more tender. It is also filled with nuts, spices, and dried fruits. Get the recipe here.
© 2023 Latin Times. All rights reserved. Do not reproduce without permission.