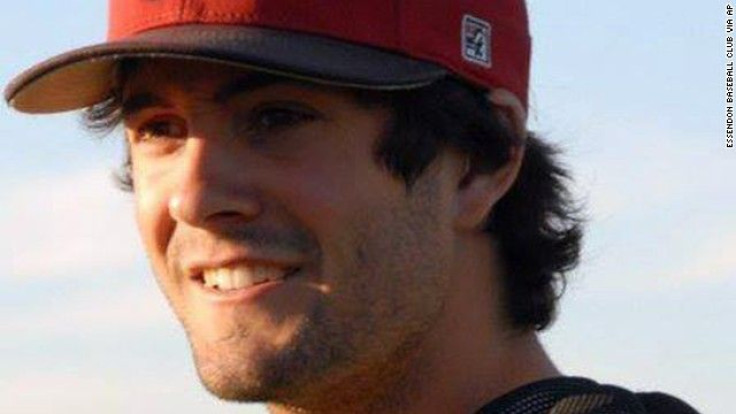 An Austrailian baseball player, Christopher Lane, who was visiting his girlfriend became the victim of a random act of violence that the teens involved said they carried out because they were "bored." The 23-year-old was gunned down by three teens while he went jogging last week in Duncan, Oklahoma when he passed by their house, apparently leading them to fire at him at random. Charges were filed against the asailants Tuesday. Police Chief Danny Ford said the suspects told him that he was chosen simply because they were looking for a target. The teens will be charged as adults.
"He said the motive was, 'We were going to kill somebody,'" Ford told Australian radio station 3AW. "They decided all three of them were going to kill somebody." James Edwards Jr., 15, and Chancey Luna, 16 were charged with felony murder in the first degree. The 17-year-old involved, Michael Jones, faces two charges: use of a vehicle in the discharge of a weapon and accessory after the fact to murder in the first degree, according to Kaylee Chandler, Stephens County Court Clerk. All three suspects remain in custody.
According to police, the teens shot lane in the back before driving away. Witnesses say Lane began staggering after being hit and fell into a kneeling position. Responders arrived on the scene, but were unable to resuciate Lane. Police found the teens a few hours after the shooting occurred when they spotted the car speeding down the street. Lane was attending East Central University on a baseball scholarship. Friends and family mourned his death, remembering him as a dynamic person with a charming disposition. His parents in Australia said they were devastated to learn of the sudden loss of their son.
"He's left his mark as we know, and you know there's not going to be any good come out of this, because it was just so senseless," Christopher's father, Peter Lane, said. "It's happened. It's wrong, and we're just trying and deal with it the best we can." One of the suspect's mothers told KWTV in Oklahoma City that her son and his friends were in a "wannabe gang." It is possible that the teens killed an animal prior to shooting Lane. It is believed that they intended to kill more people that day. Ford told CNN that the police force did not know where the teens obtained their weapons.
© 2023 Latin Times. All rights reserved. Do not reproduce without permission.