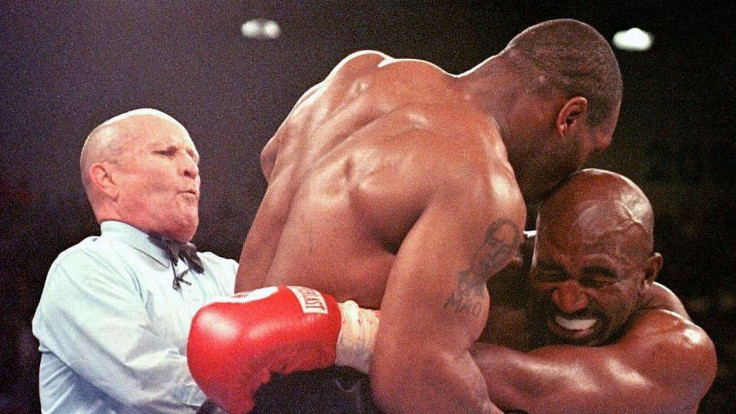 Boxing Hall of Fame referee and television personality, Mills Lane, 85, died in Reno, Nevada, Tuesday.
The southpaw, born in Savannah, Georgia, Nov. 12, 1937, Lane was a former boxer (10-1), referee, district attorney, district judge, aside from being a member of the boxing hall of fame.
Mills, suffered a stroke in March 2002 that partially paralyzed him and left him virtually unable to speak, had been in hospice care for the last week, according to the Reno Gazette Journal.
"He took a significant decline in his overall situation," mentioned his son, Tommy Lane, to the Reno Gazette Journal. "It was a quick departure. He was comfortable and he was surrounded by his family."
Mills, famous for using the phrase "Let's get it on!" to start the fight. officiated more than 100 championship bouts between 1963-1998. Most notably the Infamous Mike Tyson-Evander Holyfield "Bite Fight" June 28,1997, at the MGM Grand Garden in Las Vegas, Nevada.
Lane found himself associated with many of boxing's biggest moments. From Tyson vs. Holyfield 2 in 1997, 'Marvelous' Marvin Hagler's 1979 draw vs. Vito Antuofermo for the middleweight championship and even in Lane's last fight Tommy Hearns vs. Jay Snyder, a bout that featured a rare double knockdown in 1998.
Lane was arguably the most recognizable referee in boxing history. In 1998 Lane became an even bigger celebrity to a whole new generation, when he decided to begin his television career and participate in "Celebrity Deathmatch" a show on the MTV network. In the same year, Lane became the star of his own court show "Judge Mills Lane." The syndicated show lasted for three seasons, from 1998 to 2001, according to the New York Post.
"Everything is discipline," Lane told the Los Angeles Times in 1991. "When I'm working a fight, I give the same energy and attention to a four-rounder as I do a million-dollar fight. The way I see it, in either case, on that night, it's the most important fight in those fighters' careers."
He was inducted into the International Boxing Hall of Fame in 2013.
© 2023 Latin Times. All rights reserved. Do not reproduce without permission.