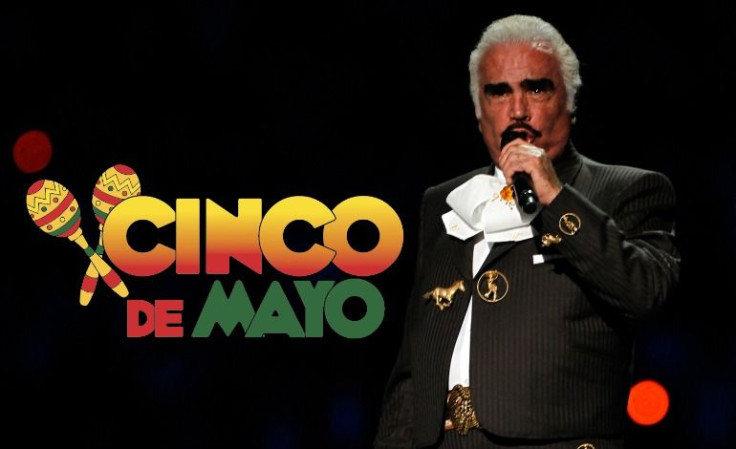 Cinco de Mayo is here and Latin Times has hooked up our readers with the best recipes in town, including a finger-licking good Queso Fundido with Tequila! Despite the delicious hook up, it really isn't a celebration without some great music!
However, we're not talking about Enrique Iglesia's latest jam "Duele el Corazon" or Maluma's "El Perdedor." In fact, we like to go all out with classic rancheras, a genre of the traditional music of Mexico. The Cinco de Mayo tradition, which is observed in the United States as a celebration of Mexican heritage and pride, commemorates the Mexican army's victory over French forces at the Battle of Puebla on May 5, 1862.
But let's cut to the chase, here are five of our favorite rancheras to fit well with your Cinco de Mayo festivities and music playlist!
1) "El Rey" by Vicente Fernandez
For some reason, this powerful and catchy song gets everyone pumped! "El Rey" composed by Mexican singer-songwriter José Alfredo Jiménez has many versions. The classic of all classics, by all means, is by the iconic "Chente."
2)"Ay Jalisco No Te Rajes" by Jorge Negrete
This famous ranchera, whose title is a phrase from the Mexican Revolution to encourage combatants, was composed in 1941 by the famous duo, musician Manuel Esperonand writer Ernesto Cortazar. It was then interpreted by the renowned Mexican actor and singer Jorge Negrete.
3) "El Aventurero" by Pedro Fernandez
Who doesn't love Pedro Fernandez? He was surely a hit in the 90's with his adorable face and pressed mariachi suits. That's why Pedrito's version of the hyped "El Aventurero" song is one of our favorites.
4) "La Bikina" by Luis Miguel
An even bigger hit in the 90's was heartthrob and "El Sol de Mexico," Luis Miguel, who has a rather large collection of traditional rancheras about love, patriotism and nature.
5) Popurri by Juan Gabriel
The icing to the cake is this 11-minute long popurri or mix by our beloved "Divo de Juarez." Juan Gabriel performs some of his greatest hits in this ranchera popurri than can keep the party going for hours!
© 2023 Latin Times. All rights reserved. Do not reproduce without permission.