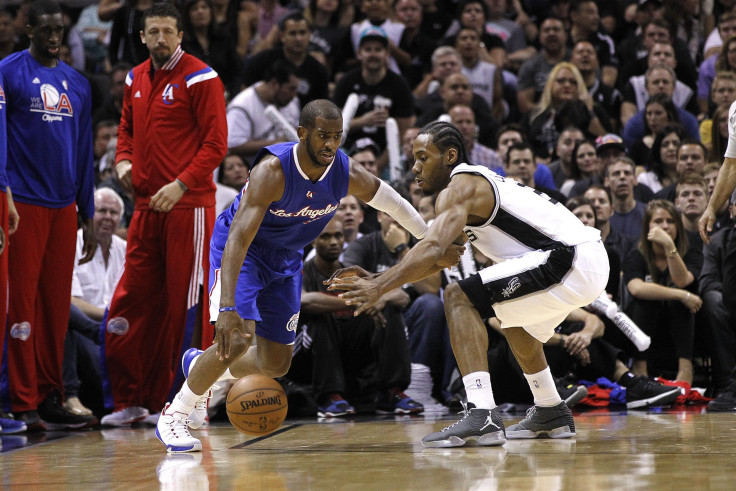 SAN ANTONIO – Facing elimination square in the face, the Los Angeles Clippers stared straight into the eyes of their opponents and delivered a crushing blow to the hearts of the defending champions.
After an epic game five that saw DeAndre Jordan tip in a Blake Griffin shot with 4.6 seconds left only to have it waived off due to basket interference, the two teams headed back to San Antonio for game six where the Spurs were 12-1 in elimination games in the Tim Duncan era.
The Clippers "Big Three" was sensational as Griffin scored 26 points, Chris Paul had 15 assists, Jordan grabbed 14 rebounds and the Los Angeles Clippers shocked the San Antonio Spurs 102-96 to even the best-of-seven series at 3-3.
"Tonight was one of the funnest games of the series," said Paul. "It seems like it's easy to say that because we won. That definitely helps, but just the intensity of it. I think we just never got rattled."
"But…" he said with a wry smile knocking on the table for effect. "It all comes down to game seven."
Paul had 19 points to go with his 15 assists and a game-high four steals. Jordan scored 15 points, J.J. Redick had 19 and Jamal Crawford scored 10 off the bench for Los Angeles.
Griffin finished with 24 points, 12 rebounds, six assists and four blocks in another all-around phenomenal game for the power forward out of Oklahoma.
"It has been entertaining," said Griffin of the series with San Antonio. "Even to experience three losses. No matter what happens the first three quarters, it seems like the fourth quarter, with the exception of Game 3, it's almost anybody's game. It has been a lot of fun to play in.
"Like I said after Game 5, this series is not over and we haven't done anything just by winning this game. We have one more game to play and we are happy we are going home to play."
San Antonio ruined a golden opportunity to close the series at home and now have to travel 1,354 miles back to Los Angeles for Game 7 on Saturday.
"The Spurs are probably excited, they get to go to our place now where they have won twice," joked Clippers coach Doc Rivers. "It's been a crazy series."
Only two starters scored in double-figures for the Spurs as Duncan and Kawhi Leonard scored 12 points each as San Antonio lost a game six elimination for just the second time in the Gregg Popovich/Duncan era.
The Spurs "Big Three" of Duncan, Tony Parker and Manu Ginobli managed a total of just 23 points compared to 60 points by the Clippers trio of Griffin, Paul and Jordan.
"Our execution at the offensive end was really poor," said Popovich after the game. "There's no excuse for it. We should be embarrassed at the way we came out for a closeout game."
Marco Belinelli was on fire as the Italian sharpshooter hit seven three-pointers off the bench finishing with 23 points to lead the Spurs.
San Antonio's bench was the lone bright spot for the reigning NBA Champions as they outscored the Clippers substitutes 48-15. However, the starting five dominated the Spurs starters 87-48 to balance the scales.
Game 7 will be at 8:00PM EST on Saturday night at Staples Center.
Game Notes:
The Los Angeles Clippers have never won a best-of-seven series when they trailed 3-2. Griffin and Jordan are the first duo to average 13 rebounds per game or more since Spurs stars David Robinson and Dennis Rodman in 1995. Chris Paul is averaging 9.9 assists per game this postseason, the third highest average all-time.
© 2023 Latin Times. All rights reserved. Do not reproduce without permission.