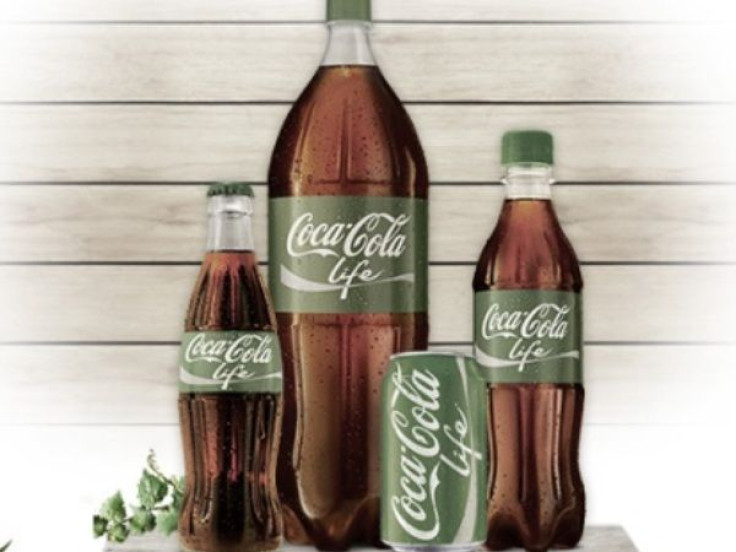 Coca-Cola Co. is introducing Coca-Cola Life -- a mid-calorie cola that was released in Argentina and Chile last year -- to the Mexican market in September. Each 12-ounce can of Coca-Cola life contains half the calories of a regular Coke, with 64 calories and 16 grams of sugar. According to the Wall Street Journal, the product has tested well (in both flavor and concept) with Mexicans.
Mexico has a serious love affair with soda and the proof is in the numbers: Mexico is the largest consumer of soda in the world, with the average Mexican consuming over 163 liters each year and spending $14.3 billion on soft drinks annually. With their high rate of consumption, soda is the primary source of calories in Mexico, with almost a quarter of Mexican calorie consumption coming from soft-drinks. One major reason: access. In some parts of Mexico, consumers have easier access to soda than clean water.
But the effects of soda are concerning, to say the least. Last year, Mexico earned the title of the world's fattest nation by the UN Food and Agriculture Organization (FAO). In their 2013 FAO report -- titled "Food Systems for Better Nutrition" -- FAO revealed that 32.8 percent of Mexican adults were obese. Not only are 70 percent of adults and 30 percent of children in Mexico are obese or overweight -- an epidemic that is estimated to cost the public health care system $11.7 billion by 2017 -- but the American Heart Association revealed that Mexico has the highest incidence mortality in the world related to the consumption of sugary beverages. What's more, Mexicans have a high incidence of diabetes as well.
To help fight obesity, Mexican President Enrique Peña Nieto announced that his government would be implementing a soda tax of an extra peso, or about 8 cents, per liter of soft drinks and other sugary beverages. Additionally, according to the BBC, the Mexican government banned television advertisements for soft drinks and high-caloric food to combat obesity. The ban was implemented on terrestrial and cable TV between 14:30 and 19:30 on weekdays and between 07:30 and 19:30 at weekends, with similar restrictions placed in movie theaters. This single move is estimated to eliminate 40 percent of advertisements for soft drinks, confectionery and chocolates.
"There are consumers who are looking to reduce their calorie intake, whether through food or beverage," says José Luis Basauri, director of the Coca-Cola brand in Mexico, to the Wall Street Journal, adding that Coca-Cola Life is an "additional option" to diet drinks for consumers trying watch their caloric intake.
Coca-Cola Life is made with a blend of sugar and stevia leaf extract, a leaf from the chrysanthemum family native to Paraguay that is used to extract calorie-free sweeteners that are 200 times sweeter than table sugar.
But is it really healthy? Yes and no. Sure, Coca-Cola Life is relatively healthier than regular Coke and reportedly does not contain the controversial ingredient found in diet sodas, aspartame. But that is not to say it is a healthy beverage.
Each 12-ounce can contains 16 grams of sugar, which means consumers could be taking in more than their daily recommended amount of sugar with just two cans. According to the World Health Organization, people should consume less than 5 percent of their daily calories from sugar, which would be 25 grams for an adult with a normal body mass index. Taking into consideration that Hispanics are prone to diabetes and increasingly common in those with Mexican ancestry, a soda habit is just not healthy.
© 2023 Latin Times. All rights reserved. Do not reproduce without permission.