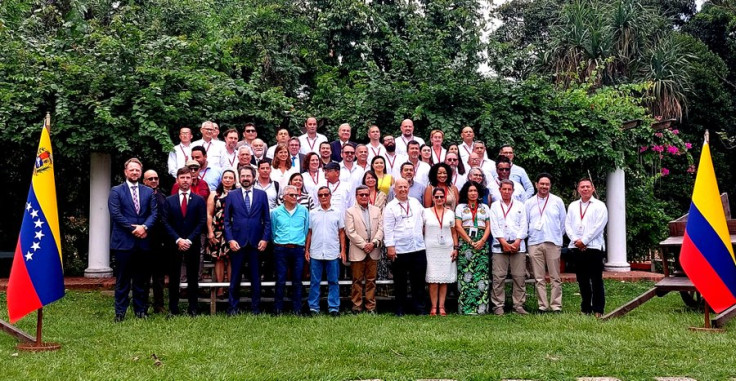 The Colombian government and the National Liberation Army (ELN), which is the country's largest remaining rebel group, began the fourth cycle of peace talks in Venezuela's Caracas on Monday.
The meeting was inaugurated by Venezuelan Vice President Delcy Rodriguez, who said, "As a guarantor country, Venezuela supports, with all its possibilities and without rest, President Gustavo Petro's 'total peace' policy," reported Telesur.
She was referring to the promise made by Petro who, upon becoming the president of Colombia almost a year ago, had pledged to bring "total peace" to his country by negotiating with armed groups.
Rodriguez hopes Petro's policy can lead them on the "right path for a lasting peace that the people can feel it as their own."
The authorities of Colombia and the rebel group will try to advance the agreement on the ceasefire that started on Aug. 2 and is planned for 180 days, according to El Pais.
Rodriguez said she hopes that "humanitarian relief measures can be adopted for the communities" impacted by the armed conflict that has been going on for decades. "This is a humanitarian objective that cannot be postponed in order to reduce the effects of the conflict."
Following the meeting, the ELN also tweeted, "Once the fourth cycle of talks between the ELN and the government gets installed, it will seek to comply with the agreements reached so far on the ceasefire and participation advance in relief and humanitarian agreements for the populations most affected by the conflict."
Otty Patiño, chief negotiator for the Colombian State, noted peace was a matter that "transcends armed organizations and administrations." According to him, it was a "state matter and commits society in general."
He added the peace efforts the government was making with the rebel group "must contribute to the construction of a state with full democracy."
United Nations' officials, which were also involved in the monitoring and enforcement of the ongoing ceasefire, and members of the Colombian Episcopal Conference were also present at the meeting.
The first cycle of peace talks started in November 2022, after four years of no discussions under the right-wing administration led by Ivan Duque.
© 2023 Latin Times. All rights reserved. Do not reproduce without permission.