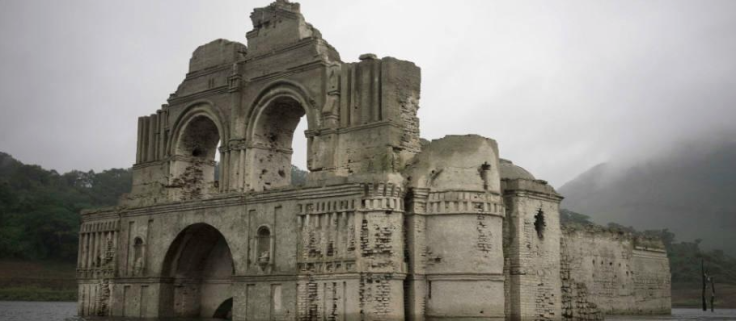 Thanks to a drastic drought in the Grijalva River in Chiapas, Mexico, a mid-16th century church has resurfaced for a second time in the Nezahualcoyotl reservoir. The church or Temple of Santiago or Temple of Quechula, was first abandoned around 1773, and was flooded when the dam was completed in 1966. Later on, in 2002 the water levels came down so far, people were able to walk into the church. "The people celebrated. They came to eat, to hang out, to do business. I sold them fried fish. They did processions around the church," said local fisherman, Leonel Mendoza.
The church was built in by a group of monks lead by Friar Bartolome de las Casas, who arrived in the Quechala locality in the mid-16th century. De las Casas was the first Bishop of Chiapas and initially supported the colonization and subjugation of the native Indians of the region. Architect Carlos Navarrete believes the convent seems to have been dependent on the nearby monastery of Tecpatan, founded in 1564, due to their architectural similarities.
Now, local fishermen are taking curious visitors in boats to see the surfacing remains of the magnificent temple.
© 2023 Latin Times. All rights reserved. Do not reproduce without permission.