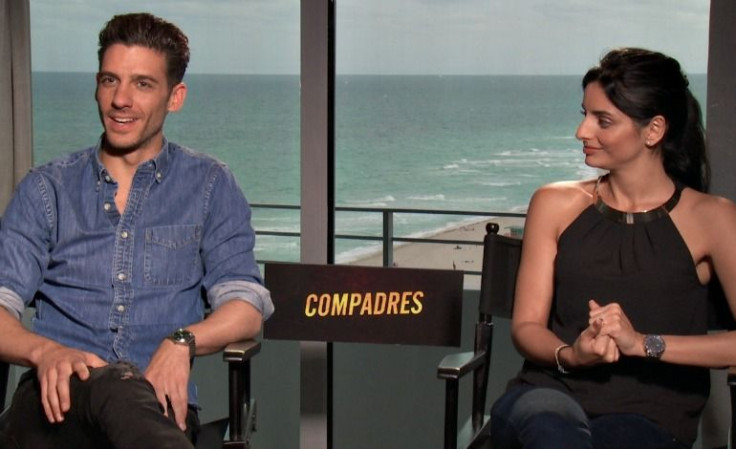 Erick Elias is currently making the rounds as el galan (the heartthrob) in "El Hotel de los Secretos," but when he's not filming for the small screen, he's seeking revenge as el chico malo (the bad boy) on the big screen. At least that's the role he portrays in the forthcoming film "Compadres" as Santos.
"Santos is the bad guy of the movie," Elias told Latin Times at a press junket in Miami. "He makes Garza's (Omar Chaparro) life impossible. He kidnaps his girlfriend, there's a lot of money conflict... this character is different than what I've ever done in my career," he said, stating that he liked his villain role because he was able to explore a new side of acting. The 35-year-old Mexican actor also said his role was challenging because he had to prepare both physically and mentally. "That's the best thing, to learn about each character," he said.
His co-star Aislinn Derbez, who portrays Maria (Chaparro's love interest) in the action-packed comedy said she faced no big challenges when portraying her character. "I didn't have any physical challenges nor did I have to do crazy action scenes," she said, stating that she and her character have many similarities. "Maria is strong, sensual, mysterious," she said. "It's a small role, but she's an important part of the film," the actress said.
"Compadres," starring Omar Chaparro, Joey Morgan, Camila Sodi, Erick Elias, Aislinn Derbez, and more, is an action-packed bilingual comedy that tells the story of a former Mexican cop Garza (Chaparro) seeking revenge on Santos (Elias), who kidnapped his girlfriend Maria (Derbez) and framed him for a crime he didn't commit.
The Pantelion Films production is already making the rounds in Mexico but will make its U.S. theatrical debut on Friday, April 22. Check out our exclusive interview with Erick and Aislinn above!
© 2023 Latin Times. All rights reserved. Do not reproduce without permission.