Rising country music Star Jake Flint married the love of his life on Saturday and hours later, he passed away in his sleep.
The Oklahoman reported that the 37-year-old singer married his bride Brenda at a remote homestead in his homestate Oklahoma over the weekend. The next morning, he passed in his sleep.
His passing was also confirmed by Flint's manager Brenda Cline.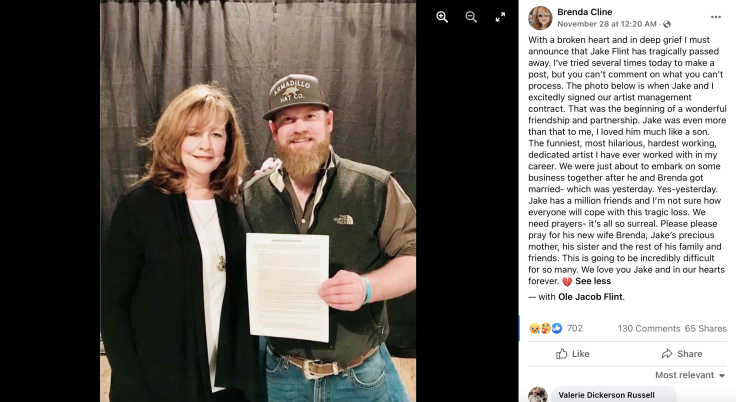 Flint's now widow made a statement on Facebook on Tuesday expressing her sadness and disbelief over her loss.

The foundation for Flint's music career was built after being diagnosed with ALS or Lou Gherig's disease at a young age. Since he was unable to play sports, Flint's father got him guitar lessons and exposed him to regional bluegrass.
He went on to release four studio albums, "I'm Not Okay," "Live and Not OK at Cain's Ballroom," "Jake Flint" and "Live and Socially Distanced at Mercury Lounge," between 2016 and 2021. He often performed throughout Oklahoma and Texas.
The singer's cause of death has not been determined.
© 2023 Latin Times. All rights reserved. Do not reproduce without permission.