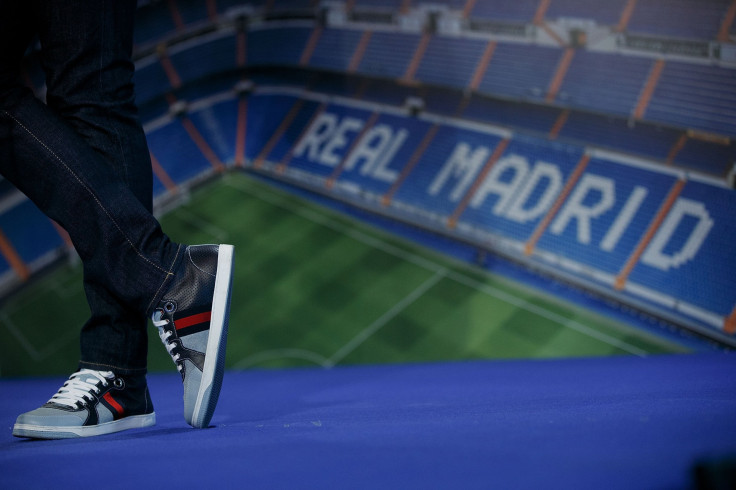 Real Madrid soccer sensation and current Ballon d'Or winner Cristiano Ronaldo wants to sell you his extremely pricey shoes. Are you interested? The Portuguese striker is no stranger to fashion. In 2013, he launched his CR7 underwear and t-shirt lines and now he wants you to try walking in his shoes…literally.
While most people would correlate Ronaldo with his line of Nike soccer cleats, the newest item of the CR7 line is actually upscale and lavish footwear. Ronaldo has three different options for his reported three different personalities. There's the "Basic" line which is loafers and boating shoes. He also offers something called "driving shoes." There's the "Premium" line which is a little more upscale and includes different colors of upscale sneakers similar to Lacoste. Finally, there's his "Luxury" line which consists of extravagant dress shoes in various shades of brown and black.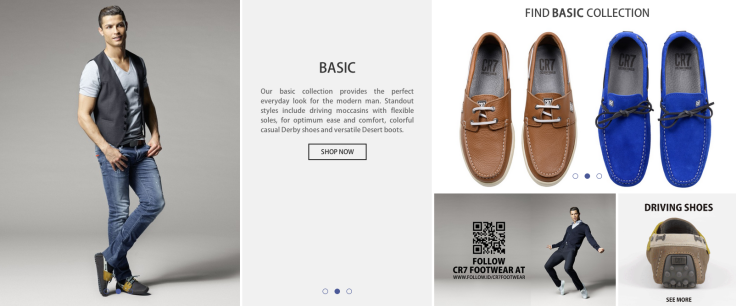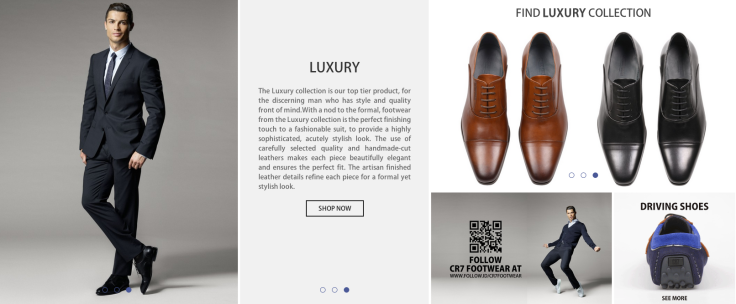 The shoes don't run cheap, and if you want to try a pair on yourself, it's going to cost you a lot of coin. The entire collection which is available on the CR7 website, run from $115 to $630, that's not a typo, $670 for a pair of Ronaldo designed dress shoes! If it makes a difference, the entire collection is made in Portugal and uses only "the best raw materials." Additionally, they are "Ronaldo approved" as mentioned in this statement on his website which was apparently written by someone who could not find the "Caps Lock" button.
"CR7 FOOTWEAR IS THE LATEST ADDITION TO CRISTIANO RONALDO'S GROWING LUXURY LIFESTYLE BRAND.

THE COLLECTION REFLECTS RONALDO'S PASSION FOR STYLE, PERFORMANCE AND EXCELLENCE AND COMBINES CLASSIC & SMART-CHIC SOPHISTICATION WITH RONALDO'S UNIQUE FLAIR.

CR7 FOOTWEAR PROVIDES A RANGE OF FORMAL OPTIONS FOR THE FASHION CONSCIOUS WHO APPRECIATE PREMIUM CRAFTSMANSHIP, LUXURY MATERIALS AND A UNIQUE AESTHETIC.

THE COLLECTION PROVIDES A GLIMPSE INTO RONALDO'S PERSONAL LIFE, THE STYLE CHOICES THAT HE MAKES AND DELIVERS A DISTINCTIVE, CHIC LOOK FOR EVERY OCCASION.

EACH PIECE HAS BEEN CAREFULLY DESIGNED AND TESTED TO PROVIDE THE BEST POSSIBLE LOOK AND FIT, ALL PERSONALLY APPROVED BY CRISTIANO RONALDO."
To be candid, these shoes actually don't look half bad, and if I were to receive them as a gift for Christmas (cough, cough), I would definitely wear them proudly. Take a look at the entire collection at cr7footwear.com and tell us whether or not you would wear the new footwear in the comments section below.
© 2023 Latin Times. All rights reserved. Do not reproduce without permission.