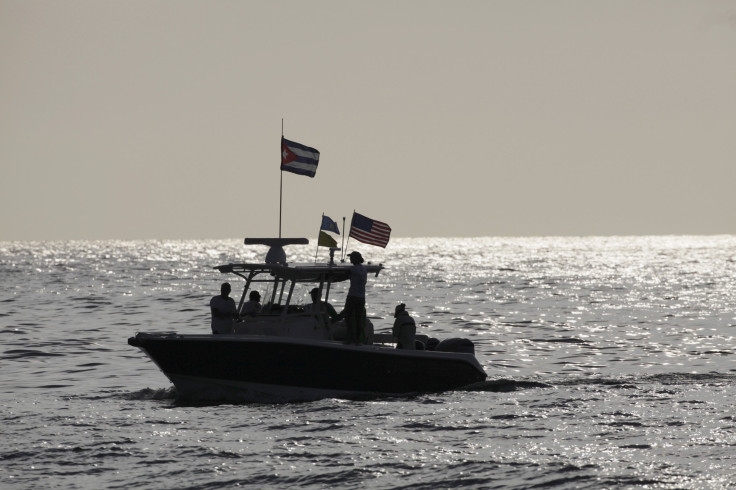 Cubans who buy, build or steal a boat to flee the island have been welcomed on Florida's shores, On Tuesday, media reports told a more unusual story. Law enforcement in the Florida keys say that Shawn Michael Luskey, 38, stole a $5k boat from a Monroe County marina. Now the man has been caught by Cuban officials, who agreed to quickly deport the suspected "pirate." While America's "wet foot, dry foot" policy essentially promises asylum to any Cubano who makes it to Florida, Floridians pisando in Cuba aren't offered the same privilege automatically.
The 13-foot Boston Whaler was reported stolen on October 31st, NBC reports. Coast Guard officials started searching for the man days later. Video surveillance show a man in a wetsuit, possibly Luskey, enter the marina shortly before the vessel was taken. His bond has been set at $45,000 according to the Monroe County Sheriff's blog.
Cuban Border officials reportedly apprehended Luskey the night of the theft in the Havana Harbor, and agreed to return him to the American Coast Guard. Other Americans fleeing the federales have been more welcome.
A handful of Black Panther militants wanted by the FBI and other U.S. law enforcement agencies have found refuge in Cuba. They include at least two -- Assata Olugbala Shakur and Nehanda Isoke Abiodun -- have evaded American prisons by obtaining political asylum in Cuba.
In both cases, the fugitives are political figures who argue that their race and political beliefs prevent them from receiving a fair trial. Thier fugitive status has been a point of tension in the recent rekindling of relations between Cuba and the U.S.
It's unclear what motive had Luskey had for fleeing Florida, and there have been no reports on his political beliefs. Did the Cuban Border Patrol find him to be more of a pirata than a revolutionary, or are they done hosting American's on the run?
© 2023 Latin Times. All rights reserved. Do not reproduce without permission.