A father has been nabbed by police after he allegedly deliberately set a family home alight in New Jersey, ultimately killing his infant daughter and her grandparents, Mercer County officials confirmed on Monday.
Authorities have slapped suspect Michael Sanders, 23, with three counts of murder following the deaths of his 9-month-old daughter, Malani Sanders, and her grandparents, Tiffany Abrams-Jones, 42, and Prince Jones, 50, according to the New York Post.
He also faces charges of aggravated assault, aggravated arson, and causing widespread injury or damage in connection with the fatal fire at a duplex in Hamilton Township on Friday.
The fire broke out at about 3:40 a.m. on the 200 block of Woodlawn Avenue, quickly ravaging both sides of the New Jersey home, which caused a partial roof collapse. Responding officers retrieved the bodies of the young Sanders and her grandmother Abrams-Jones at the home after they died at the scene.
Three people with burn injuries were then transported to an area hospital, including the 50-year-old Jones, who later succumbed to his injuries on Sunday, 6ABC reported.
According to investigators, Sanders hailed a cab from Trenton and was spotted wearing a dark-colored sweatshirt, a mask, and white gloves hours before the fatal flames wreaked havoc on the home.
Surveillance video from the nearby Fast Trac Gas Station revealed that he was dropped off near the residence on Woodlawn Avenue some 15 minutes before the fire broke out, buying a torch lighter and cigars, which he used to spark the flames, CBS Philadelphia noted.
The suspect had also warned his former partner via text of the imminent danger, instructing her to get their baby out of the house, according to prosecutors.
Sanders was apprehended by law enforcement early Monday morning at a hotel in Plainsboro. The prosecutor's office has filed a motion to detain Sanders pending trial.
The matter remains under investigation. Authorities are urging anyone with information to get in touch with Hamilton Township Fire Detective Jennifer Eyster at (609) 989-6406. Information may also be emailed to mchtftips@mercercounty.org.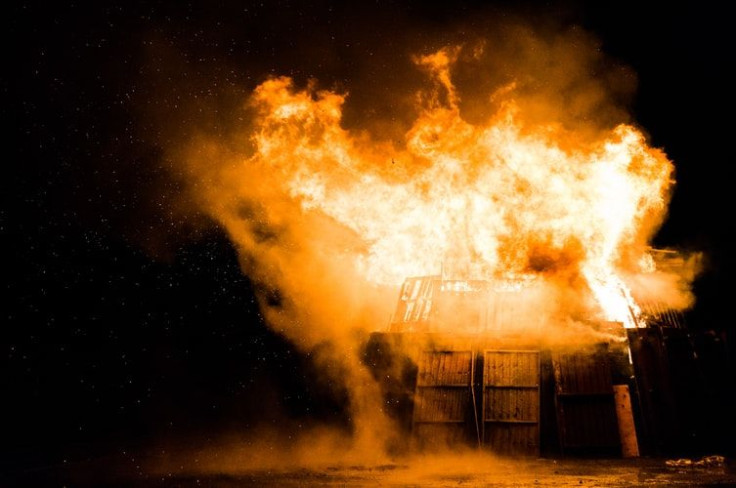 © 2023 Latin Times. All rights reserved. Do not reproduce without permission.