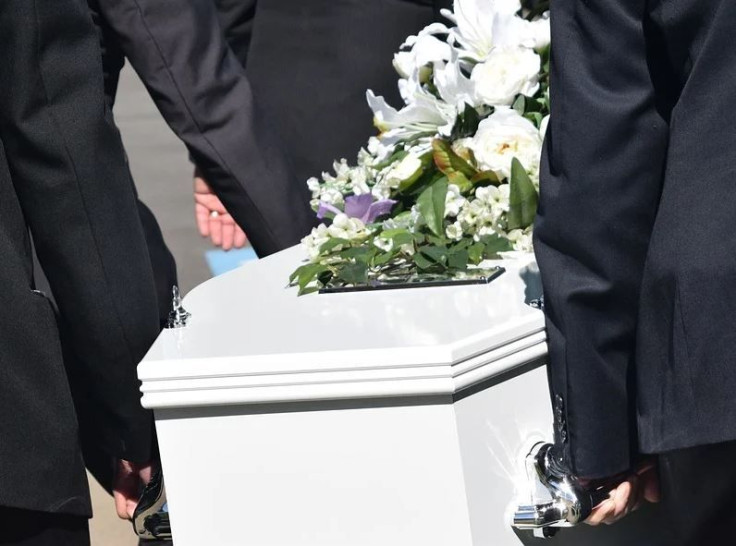 Eight-week-old Liam O'Keefe who was stabbed to death in his Ardoyne home in Belfast last Tuesday was laid to rest Wednesday. Family and friends mourning the tot's brutal death are still immersed in shock, grief and disbelief over the incident, which led to the arrest of his mother, 29-year-old Raluca Tagani.
Media outlets who had been given permission by O'Keefe to cover his son's funeral, captured heartbreaking images of the child's grieving father as he cradled the boy's tiny white coffin in his arms while he broke down in tears.
The boy's father, who bears the same name as his son, could be seen leading mourners from the Chapel of Rest at Brown's funeral home on Oldpark Road as they made their way to Roselawn crematorium where funeral services were held.
Images posted by The Sun showed Liam's dad along with other family and friends donning grey onesies that had a picture of the infant and "Kiss Me I'm Irish" written across. Some mourners wore tops bearing the child's face and on the back was a printed image of baby Liam and his older sister Kayla captioned with "Brother and Sister". Others were also seen carrying teddy bears.
Liam's sister who also suffered critical stab injuries during the incident has since been recovering at the hospital with improving health status. She is said to be in stable condition.
Fighting off tears, O'Keefe thanked the community and his neighbors for their help and support as he addressed attendees at a special community vigil offering prayers for both his children. "I am truly heartbroken but it gives me the strength to know you are all giving so much love and support. Thank you from the bottom of my heart."
A fundraising campaign launched by the community to help the family has since raised almost $5500.
Meanwhile, the children's mother is facing murder charges for Liam's death as well as attempted murder charges for stabbing her daughter. She appeared before the Belfast magistrates court last week and was remanded in custody as she awaits another court date set on Aug. 27.
A Police Ombudsman spokesman said a decision will be made in the coming days as to whether the case has issues that require further investigation citing a visit by the police to the family home just days before the stabbing took place.