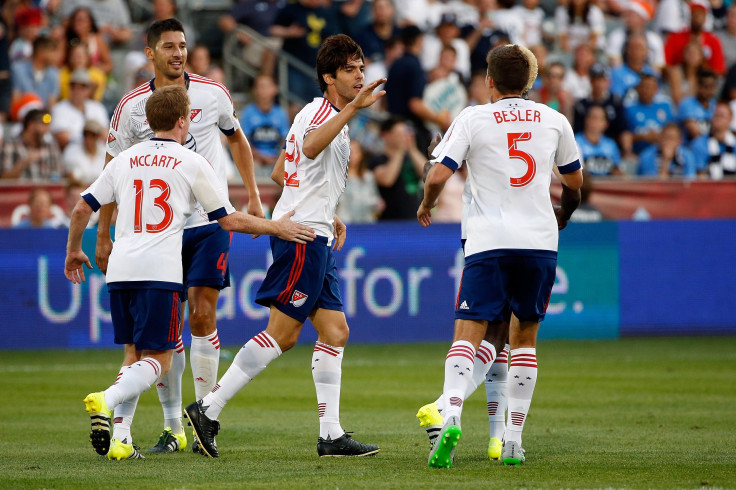 David Villa and Kaká provided the offense and the MLS All-Stars hung on to top the Tottenham Hotspur of the English Premier League 2-1 on Wednesday from Dick's Sporting Goods Park in Denver, Colorado.
The first twenty thrilling minutes of the match saw both teams with a lot of action and scoring opportunities. The game's first goal came in the 20th minute when Tottenham's Nacer Chadhi was called for a hand ball in the box after an MLS corner kick and Kaká stepped up and converted the shot into the bottom left corner of the net.
Minutes later, after an incredible save by Real Salt Lake goalkeeper Nick Rimando on Hotspur striker Harry Kane, the MLS All-Stars quickly countered in transition as La Galaxy and USMNT star Gyasi Zardes found Kaká running down the right side of the pitch. Kaká sent a cross into the box that Villa got a touch on, redirecting it into the net.
After a MLS turnover, Tottenham Hotspurs striker Harry Kane scored a magnificent goal. Kane's Golazo came from outside the box on a rocket shot to the top left corner of the net.
All of the scoring occurred in the first half as each team used their allotted eleven substitutes to replace their rosters for the second half of the match. Despite both teams pressing and having chances to score, the first half result held and the MLS All-Stars won the hybrid friendly exhibition match.
The MLS All-Stars have seemed to shine when the stage is the brightests, as the win the midsummer classic match for the eighth time in their last 12 matches.
Kaká took home the MVP of the match with a goal and an assist. The Orlando City striker who hails from Brazil said he wanted to prove to the world that the MLS was one of the top leagues in the world.
© 2023 Latin Times. All rights reserved. Do not reproduce without permission.