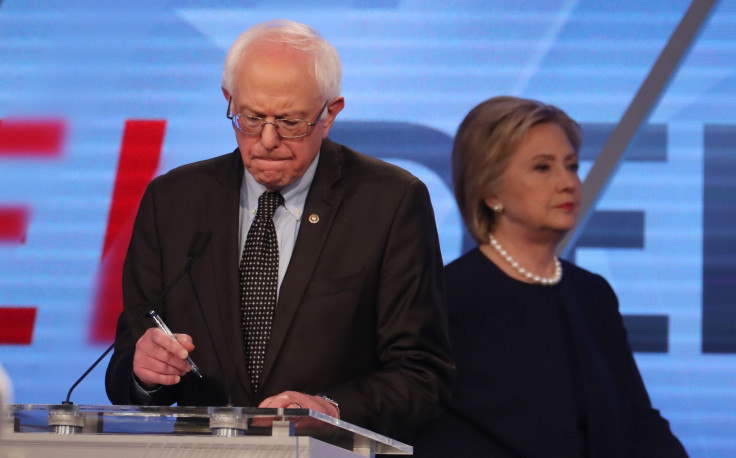 Vermont Sen. Bernie Sanders and Former Sec. of State Hillary Clinton made a big promise at their fourth one-on-one debate on Wednesday at Miami-Dade College in Miami, Florida. They both pledged that if elected president they wouldn't deport immigrant children in the country illegally. Then they expanded that pledge to most immigrants who haven't been convicted of a criminal offense (immigration violations are civil offenses, like a ticket parking, not criminal offenses, like a DUI).
Some promises are easier to break than others, as Vox reports. For example, Clinton and Sanders said in previous debates that they would target fewer immigrants for deportation than current president Barack Obama, but only if the Supreme Court upholds their legality in a landmark case that will be argued this summer. The promises made at Wednesday's Univision/Washington Post/ Facebook debate in Miami weren't couched in conditionalities. If they are elected, the candidates now have little wiggle room on immigration without angering pro-immigrant voters and increasingly powerful activist groups.
Here's a running list of the 5 biggest immigration promises that Clinton and Sanders have made so far in the campaign.
1) Introduce comprehensive immigration reform legislation during their first 100 days in office.
2) Prevent families from being separated by deportation.
3) "Try to" reunite families already separated by previous deportations.
Clinton said "try to," while Sanders has says in his plan that he will use "humanitarian parole." Neither of them have made the same redline promise that they did with children and non-criminals.
4) Prevent all child deportations.
5) Prevent all deportations of immigrants in the country illegally that are "already here" without criminal records.
See an important pledge missing from the list? Please send us an email or post a comment below.
Can any of this be done? Introducing legislation (1) might be an easy promise to keep, but passing it may prove impossible, especially without going back on promises (4) and (5). It's unclear how Clinton would reduce family separations (2), as she has yet to release a detailed immigration plan (in fairness, her current plan is more detailed than it was a few months ago). Sanders' plan prescribes increased parole-in-place and "humanitarian" parole. Allowing those already deported (3) to return would be incredibly difficult to achieve without congressional approval.
Democrats also need to define what "already here" means. The Obama administration defined "already here" as Nov. 20, 2014. Sanders and Clinton are saying that they would help immigrants who entered the U.S. illegally after that point, at least up to the night of the debate. Sanders' written plan focuses on the estimated 85 percent of immigrants in the country illegally who have resided in the U.S. for five years or more. But that's only 8 or 9 million people. What about the other 2 million?
Lastly, none of these executive actions will be possible if the Supreme Court rules in favor of the Texas and it's coalition of Republican states who have sued Obama's immigration policies. But there's more wiggle room, which may account for the candidate's change in tune. Since Antonin Scalia's death, the Supreme Court is down one justice. In the case of a tie, Texas will win, but a hypothetical future Democratic president could litigate the issue again.
© 2023 Latin Times. All rights reserved. Do not reproduce without permission.