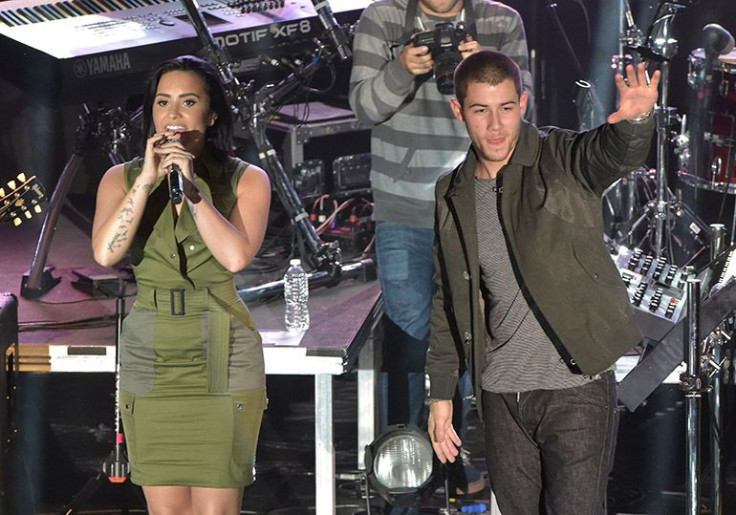 Only six months ago, former Disney stars Demi Lovato and Nick Jonas announced their "Future Now" tour, which kicks off in June. "Nick and I have decided, and we are announcing, that we are going on tour next year," Lovato said at the time. But for now, the two have been seemingly focused on rehearsing, doing shows and just recently, they paid a visit to the Children's Hospital Los Angeles for a surprise performance.
The singers gave a VIP concert to some very special fans, cheered them on, posed for photos and signed autographs. The hospital posted a montage video of the happy day and child life specialist Lisa Cies said it makes the kids feel special. "When they're in the hospital so much, they think they're left out from a lot of normal things, whether it's school, seeing their friends… but they kind of got their own concert here today. So they got to have something that was special for them," she added.
Lovato sang an acoustic version of her hit tune "Confident" accompanied by Jonas playing the guitar. Next, the two performed his song "Jealous" while Lovato did the backup voice and encouraged their young audience to clap along.
This is not the first time the two have been working together on several performances; Jonas joined Lovato's tour "Neon Lights" in 2014. "I was part of the creative team on the tour and the chance to work behind the scenes was fun but now, to do this together, is really special for both of us," Nick explained. It's important to note that when the power duo announced their upcoming tour, fans almost immediately crashed the website where they could get more information. "Future Now: The Tour" will run until September 2016.
Check out the touching video of the 23-year-old singers' very special day giving back:
What happens when Demi Lovato and Nick Jonas come to CHLA? SMILES! Thanks for coming, singing and having a great time with our patients!

Posted by Children's Hospital Los Angeles on Tuesday, March 29, 2016
© 2023 Latin Times. All rights reserved. Do not reproduce without permission.