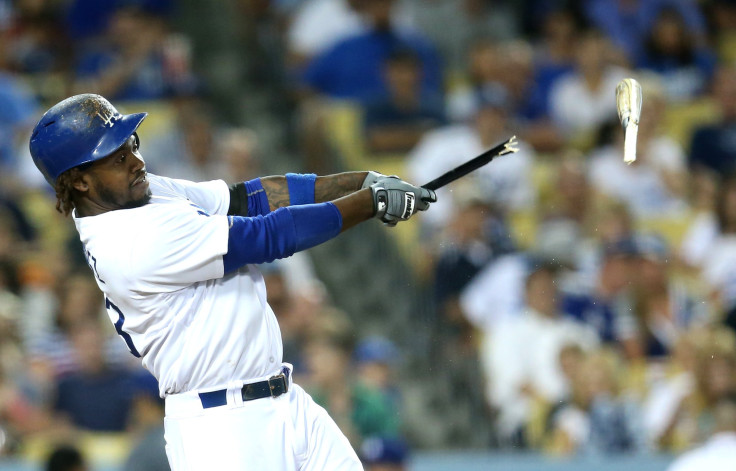 Watch out MLB, Hanley Ramírez is heating up. Ramírez had a two-run double in the bottom of the 8th and Adrián González hit his 20th home run of the season as Los Angeles' Latino stars led the Dodgers to a 5-2 victory in front of 50,823 at Chavez Ravine.
González took the first pitch he saw in the first-inning and sent it 421 feet to right center. He has now hit 20 or more home runs eight out of the last nine seasons.
Hyun-Jin Ryu (14-6) wiggled out of a 2nd inning jam, to keep the Diamondbacks scoreless through six innings. He ran into trouble in the 7th however allowing two runs on seven hits with one walk and nine strikeouts in a no-decision. Ryu is now 2-0 with a 0.96 ERA against the D-backs this year.
"You could see it in his face he was confident. It felt like it was his game right there." Said Dodgers Manager Don Mattingly after the game.
Dee Gordon got the Dodgers off to a quick start with a double down the right field line. González followed him up a batter later with his blast to right center that gave the Dodgers the lead 2-0.
"I was trying to be aggressive on his fastball. He threw me one middle in and I jumped on it." Said González.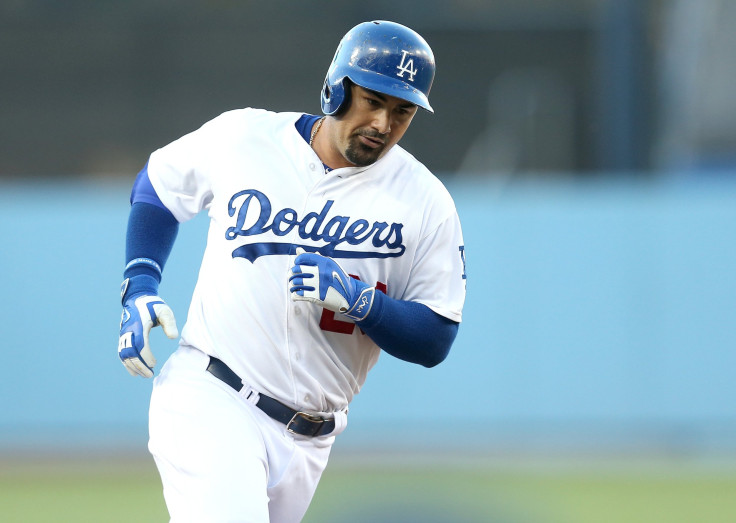 Matt Kemp extended his hitting steak to twelve games with a single in the first inning, and made a great defensively play in the first when he robbed Chris Owings of a hit with a great catch on a dead run. Kemp smartly threw to first and doubled up Diamondbacks center fielder Ender Inciarte who was running on the play.
Great glove work was a theme throughout the evening as Carl Crawford flashed some leather in the top of the second inning with bases loaded and one out. Crawford made a sliding catch to rob Tuffy Gosewich and help Dodger's starting pitcher Hyun-Jin Ryu get out of a bases loaded, no out jam. Ryu gave up a lead off double to Mark Trumbo, followed by a single to Aaron Hill and a walk to Ross before sandwiching Crawford's diving catch between strikeouts.
"I thought that was a key spot in the game. Ryu got a big strikeout, Carl makes a nice play in left and that last strikeout kinda changed the momentum of the game." Said Mattingly.
Ryu finally ran into some trouble in the top of the 7th when a leadoff single by Hill followed by a double by Ross, finally got the Diamondbacks on the board. However, after striking out Reimold and getting Gosewisch to ground out to third, Ryu gave up a single to pinch hitter A.J. Pollock that tied the game at 2.
Jamey Wright relieved Ryu and promptly got a ground out to end the inning. The dodgers went into the stretch deadlocked in a 2-2 tie. Joc Pederson was robbed of extra bases in the bottom of the eighth by Nolan Reimold, who made a leaping catch at the wall in left to save the game for the moment for the Diamondbacks.
Pederson started in center field for the third time since being called up on Monday. While rumors swirled in Los Angeles that Yasiel Puig had been benched in favor of Pederson, Mattingly put those rumors to rest before the game letting everyone know that Puig was not feeling well and needed an IV.
"Yasiel is not feeling good today, he's getting an IV or something. It's an opportunity for Joc to do his thing." He said.
Dee Gordon had a great night going 3 for 4. It was Gordon's NL-leading 18th game with three or more hits this season. Gordon's great night got even better in the bottom of the eighth when he had an epic nine-pitch at bat against D-back's reliever Daniel Hudson. Gordon's two-out RBI single up the middle was the go-ahead run and put the Dodger's over the top.
"I had to battle. He was throwing hard and mixing his pitches well, and he just left a pitch out over the plate that I could put in play. " Gordon said after the game.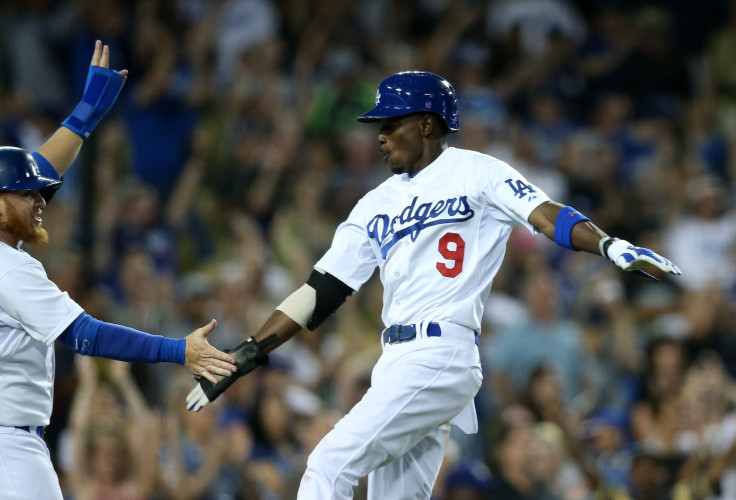 The inning changed when Mattingly put in recent September call-up, Roger Bernadina. Bernadina made his Dodger's debut pinch running for Juan Uribe who led off the 8th with a single. After Pederson flew out, Mattingly brought on hot-hitting Justin Turner to bat for A.J. Ellis. Turner hit a broken bat grounder to third that Aaron Hill tried to turn two on. In an excellent display of speed and hustle, Bernadina slid into second beating throw by Hill by milliseconds.
"I saw I had a chance on the play. I got a pretty good jump and I made sure to stay on the base. Dee had a big AB and it got us a win." Bernadina said in his first ever big league post-game interview.
Hanley Ramírez followed up Gordon's single with a bases clearing double that scored Turner and Gordon. After review however it was determined that a fan interfered with the ball in play, but because the umpires believed Gordon would have scored regardless of the fan interfering with the ball, Gordon's run counted and Ramírez had to go back to second. The fan was immediately ejected and the Dodgers never looked back after that as they went on to win 5-2.
Kenley Jansen worked a scoreless ninth to earn his 41st save of the season. He became only the fourth reliever in Dodgers history to save 40 ore more games in a season.
With the win, the Dodgers stay two games ahead of the San Francisco Giants for the NL West lead. The Dodgers won their 4th game in a row against the Diamondbacks and picked up their 80th win of the season in the process.
Diamondbacks starter Chase Anderson (8-6), pitched well against the Dodgers allowing just two runs on four hits over six innings. His one mistake however was his first pitch to González.
"I think he was on. He threw well tonight," said Dodgers center fielder Joc Pederson. Pederson got tied up on an Anderson pitch in the second inning that his bat went flying into the Arizona dugout.
The Diamondbacks fall to a season low, 59-83, and are now 4-14 against the Dodgers this season.
Game Notes:
With the victory the Dodgers improved to 39-21 against NL West opponents. With the Dodgers win and the Nationals loss to the Phillies 3-1, the Dodgers currently hold the best record in the National League. González leads all active players with 29 career home runs against the D-backs and holds a batting average of .407 against their NL West rivals.
© 2023 Latin Times. All rights reserved. Do not reproduce without permission.