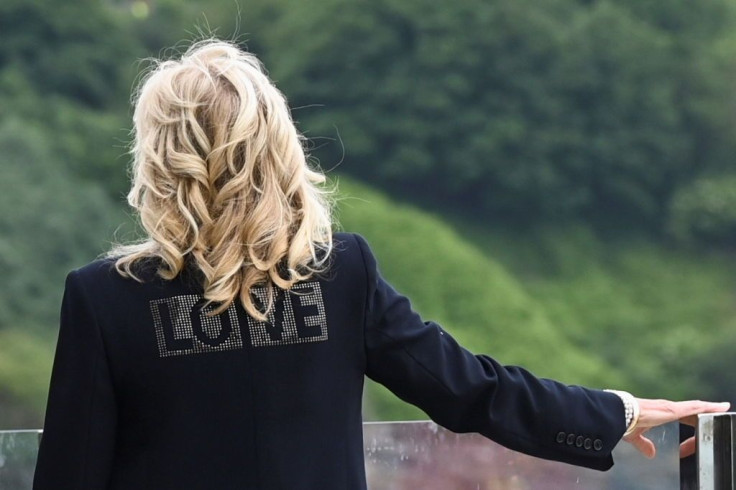 Did Jill Biden just throw shade at Melania Trump with her "LOVE" jacket? Well, grapevine certainly thinks so!
The Bidens flew to Cornwall, England, earlier this week to meet UK Prime Minister Boris Johnson and his wife, Carrie. During the meet, paparazzi snapped the US President's wife donning a blazer over a black and white polka-dot dress and paired it up with pearl earrings and a necklace.
But something else caught the fancy of shutterbugs—the term "LOVE" emblazoned at the back of the jacket, drawing comparisons with Melania Trump's jacket (which she flaunted in the year 2018 and came with the wordings "I DON'T CARE…DO U?"). While Trump supporters and insiders averred that there was no message, but her President husband suggested that the message was aimed at "fake news media" as reported by The Sun.
Five months since Melania's infamous jacket appearance at Andrews Air Force Base in Maryland on June 21, 2018, the former first lady mentioned that it was aimed at trolling haters. "I want to show the [left-wing media] that I don't care. You could criticize whatever you want to say, but it will not stop me to do what I feel is right," said Melania to reporters.
"It was kind of a message, yes," Melania added, contradicting the official White House word on the matter, from back in June 2018. "I would prefer that they would focus on what I do and, on my initiatives, [rather] than what I wear," she added.
While Jill maintained that the only message she wanted to pass on with the outfit choice was love, onlookers thought it suggested otherwise. "Well, I think that we're bringing love from America," said Joe.
"I think that this is a global conference and we're trying to bring unity across the globe and I think that's important right now that you have a sense of unity," she added. The jacket was worn just a day after the couple arrived in the UK.
Their meeting seemed like one filled with chuckles, as the four walked hand in hand with their respective partners as they met over tea at an idyllic spot overlooking the St Ives Bay on Thursday. Carrie looked resplendent in a scarlet red $460.99LK Bennett number and matching $70 Zara shoes.
"It's really nice to be here in Cornwall. It's my first time. Obviously, it's beautiful for those of you who have been here before," said Joe, as cited on Daily Mail. "Joe and I are really looking forward to meeting everyone at the G7," she added.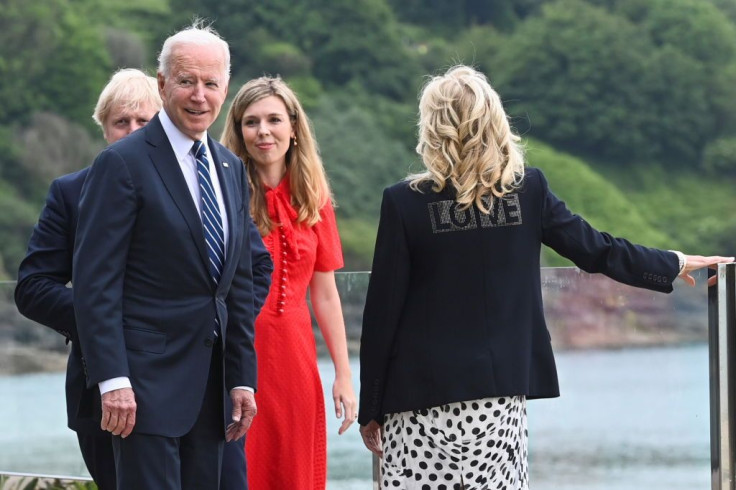 © 2023 Latin Times. All rights reserved. Do not reproduce without permission.