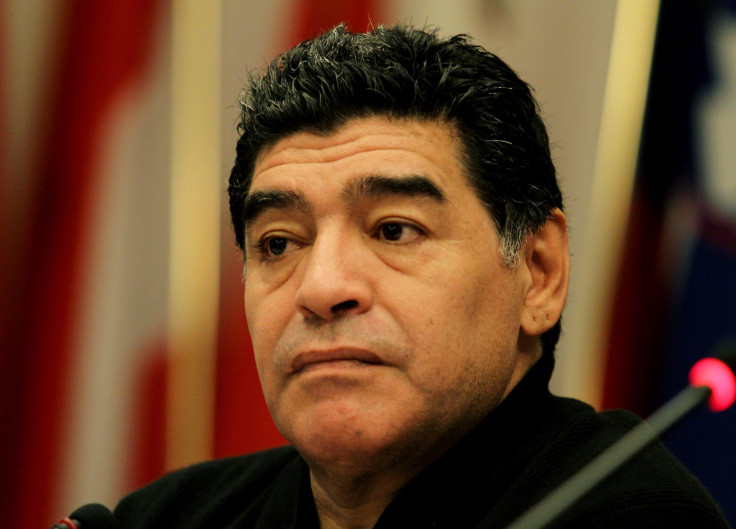 It seems like Diego Maradona's drinking is getting a bit out of hands. This time around, a disturbing video surfaced online showing the Argentine striker visibly intoxicated and hitting his on-again, off-again girlfriend Rocío Oliva. In the 30-second clip, originally aired by Argentine TV program "Nosotros al Mediodía" on Monday, Oliva is handling her phone, set on video mode, while Maradona is watching TV. All of the sudden, the soccer star, appearing drunk, gets off the couch and approaches his former love. He blurts out some words until eventually he puts a whole sentence together.
"You keep looking at your phone?" He says as he approaches Oliva. At that point, Maradona looks angry and menacing. Rocío replies "So what, I can't look at my phone?" and right after, Maradona is seen getting physical. His former fiancée starts yelling "Stop! Stop hitting, Diego, stop!" as the clip abruptly ends. The video is thought to have been recorded at Maradona's apartment near Buenos Aires earlier this month when he went to Argentina to visit his father who had been rushed to the hospital.
According to Daily Mail, on Monday night reporters approached Maradona, who insisted he had only knocked the phone out of Oliva's hands. "I sent the phone flying but I swear I've never hit a woman. The story starts and finishes there. I admit I knocked the phone out of Rocío's hands but there's nothing more to it. The situation didn't continue." Watch the video below and you be the judge. Regardless of the story behind this behavior, hitting your partner is never admissible. If you or anyone you know is a victim of domestic violence, speak up! Call your local authorities and denounce the perpetrator. It is never ok, and you never deserve it.
© 2023 Latin Times. All rights reserved. Do not reproduce without permission.