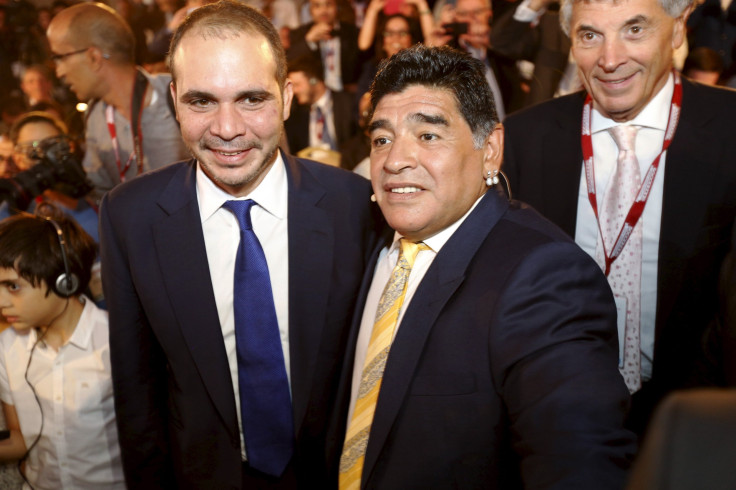 Argentine soccer legend Diego Maradona has officially thrown his hat into the ring if and when FIFA decides to elect another president. However, the path to the presidency for one of the greatest soccer players to ever play the beautiful game is paved with obstacles and barriers that may make it impossible for him to make the ballot.
Maradona has a history off on-and-off the field issues that have followed his career. Most recently, Maradona was accused of drunkenly hitting his girlfriend. In order for the former World Cup winner to make the ballot to even have the opportunity to be elected as the president of FIFA, he will first need to persuade five of FIFA's members to nominate him. If Maradona gets nominated, he will then need to pass FIFA's integrity check, which could prove to be a more difficult process especially with the recent corruption scandal.
Longtime FIFA President Sepp Blatter announced last month that he would step down as president in 2016, just four days after being re-elected to a fifth term. Blatter is at the forefront of a U.S. FBI bribery and corruption scandal that hat nearly a dozen FIFA officials arrested for accepting over $150 million in bribes over the past 20 years.
One person who supports Maradona's bid for the presidency is Venezuelan President Nicolas Maduro. Maradona has been a support of Venezuelan soccer as well as the country's socialist government.
In addition to Venezuela, Cuba could be another country that would support Maradona's candidacy. The 1986 World Cup"Hand of God," star is a regular visitor to the socialist country and is an avid supporter of Fidel Castro.
"I think we have a good chance to kick Sepp Blatter in the rear end – without a doubt," Maradona told the U.S. media back in April.
© 2023 Latin Times. All rights reserved. Do not reproduce without permission.