A Tampa diver is recovering from a skull fracture with 34 staples in his head after enduring a brutal alligator attack in Florida waters on Sunday.
The victim Jeffrey Heim, 25, said that he had only been in the Myakka River for a few seconds before the female predator, about 9-foot long, snapped its jaws around his skull. Heim, a personal trainer by day, was reportedly diving for megalodon teeth when the alligator pounced on him.
"I thought I got hit by a propeller; it hit me so fast. It felt like a boat was going 50 mph," Heim recalled. "I look up and the gator is right in front of me and we are looking at each other and we are both confused."
Heim proceeded to move slowly away from the alligator after it savagely bit him. He managed to get out of the treacherous river before the reptile could lunge at him again.
Passersby alerted 911 about the brutal attack and kept him awake while waiting for the ambulance to arrive. He was then rushed to Sarasota Memorial Hospital where he had 34 stitches in his head after sustaining a minor skull fracture and bite marks on one of his hands, according to WFLA.
Heim, an advocate for marine life, has years of diving experience across Florida. He collects shark teeth for passion with hopes to one day turn his project, shrkco, into a full-time profession.
The mating season for alligators occurs between May and June, making them more agile and aggressive, according to the Florida Fish and Wildlife Commission. The group confirmed that a licensed nuisance trapper would eliminate the dangerous gator, according to NBC 2.
The experienced diver has also acknowledged his shortcomings that led to the nearly fatal incident.
"[The alligator] was protecting her environment, protecting her family," Heim said. "That's what those animals are bred to do, and I learned that the hard way. I'm lucky it wasn't much worse."
Despite the wounds he sustained from getting mauled by the predator, Heim calls it an "act of God" that he survived Sunday's incident. He remains grateful his recovery will only take a few weeks, reported ABC Action News.
"I've never cried so much in my life, just from the realization of what I've gone through and how I was an inch away from death," he concluded.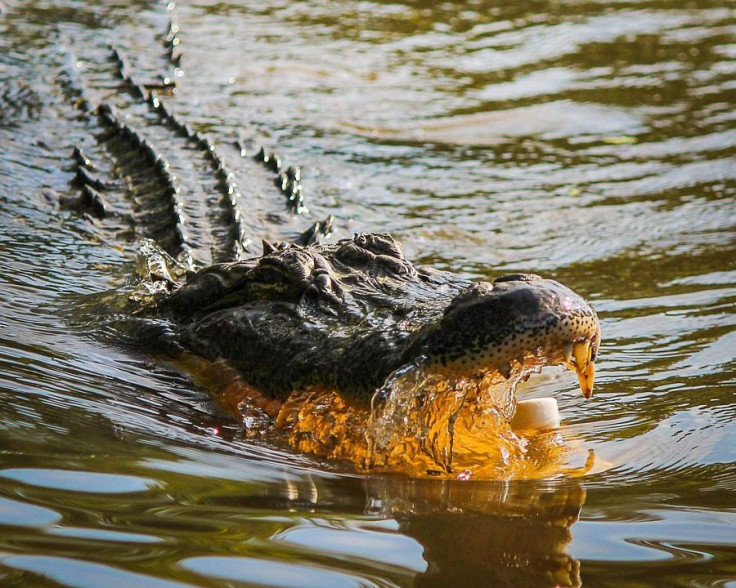 © 2023 Latin Times. All rights reserved. Do not reproduce without permission.