Donald Trump received loud boos as he paid his last respects to late Justice Ruth Bader Ginsburg on Thursday. The president was also met by chants of "vote him out" as he and his wife Melania Trump emerged at the top of the Supreme Court steps during the visit.
Despite the visceral reaction of the crowd, Donald Trump and the First Lady stood silently near the flag-draped casket of the late liberal justice. After a few moments of silence, the pair returned to their limousine and drove back to the White House.
The loud boos highlighted the public outrage toward Trump following the death of Ginsburg, who succumbed to cancer less than two months before the Nov. 3 elections. Since her death, Trump has been rushing to fill her seat in a move that Democrats consider as treacherous, considering that Republicans thwarted Barack Obama's nominee for the court 10 months before the 2016 elections.
Asked about the scene at the court later in the day, Trump said he could barely hear the boos. "I think that was just a political chant," he said. "We could hardly hear it from where we were. Somebody said there was some chanting. But they were right next to the media. But we could hardly hear too much. We heard a sound but it wasn't very strong," he added.
In a separate statement, White House press secretary Kayleigh McEnany expressed her dismay over what had happened. "The chants were appalling but certainly to be expected when you're in the heart of the swamp," she said. "I travel with the President all across the country -- Pennsylvania, North Carolina, Florida, Nevada -- and everywhere we go, the streets are lined with support like I don't think any other president has had previously."
Donald Trump has also drawn criticism in recent days for not honoring the wish of the late justice—that she be replaced by the next president. Before she died, Ginsburg had written off her dying wish to be replaced by the winner of the 2020 elections as a Democratic ploy. However, Trump rushed to fill her seat after her death and said earlier this week he would announce Ginsburg's replacement after her memorial ceremonies.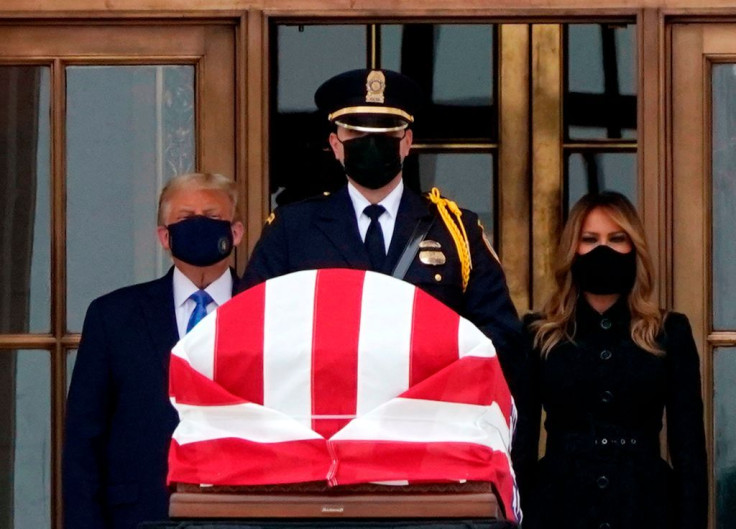 © 2023 Latin Times. All rights reserved. Do not reproduce without permission.