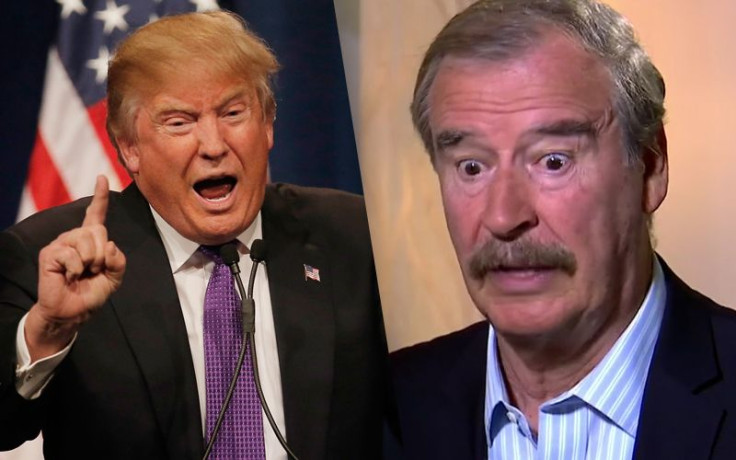 Vicente Fox is not holding back his words after Donald Trump signed an executive order to move forward with plans to build a wall on the border of México and the United States. The former President of México sent a tweet to Press Secretary Sean Spicer: "I've said this to Donald Trump and now I'll tell you: México is not going to pay for that fu**ing wall."
Fox also commented on Trump's plan to investigate the alleged "voter fraud" that supposedly cost him the popular vote. "Go ahead, Trump," he wrote. "This will prove that the system made you win, not the people. Losing by 3+ million votes is not a mistake." He also added in a separate tweet: "Trump grow up, behave like a president. Stop lying and cheating American people. You know you lost popular vote."
Vicente Fox and Donald Trump have been at odds with each other since the latter's campaign trail and his intentions to build a wall between the neighboring countries. During one of the debates Trump demanded an apology from Fox after using the expletive he used today as well. "I will [make them pay]," he said during the debate. "And the wall just got ten feet taller." The Republican front-runner also took to Twitter to share his opinion: "FMR Pres of Mexico, Vicente Fox horribly used the F word when discussing the wall. He must apologize! If I did that there would be uproar!"
In an interview with Univision, Fox continued voicing his thoughts about Trump. "He is a loud-mouth, arrogant, ignorant who has no idea what it is to sit in the chair of the U.S. presidency," he told Jorge Ramos. "To follow a false prophet like Donald Trump, to follow him into the desert without knowing where he's going, is very dangerous."
© 2023 Latin Times. All rights reserved. Do not reproduce without permission.