Of late, there have been news reports that the White House is considering the technique of herd immunity as a response to the coronavirus pandemic. Responding to the possibility, Dr. Anthony Fauci, the nation's top infectious disease expert, has expressed his disagreement with the tactic, stressing that it is "not a fundamental strategy."
"We're not there yet," Fauci told MSNBC in response to The Washington Post's report that Dr.Scott Atlas, the new health adviser of the President is pushing the Trump's administration give herd immunity the green flag as a possible method to stop the pandemic. "That's not a fundamental strategy that we're using."
As per the herd immunity strategy, a majority of Americans would be exposed to the virus so that the larger population can build a widespread resistance to it. For this, at least 165 million to 230 million people would need to infected in order to build immunity.
"The fundamental strategy that we clearly articulate and go by through the [White House coronavirus] task force is to try to prevent as many infections as you possibly can prevent," he added. The Post also highlighted that unlike Fauci, Atlas is not an expert in infectious diseases or epidemiology as he is a physician. Other experts have already disapproved the strategy as it would only cause more deaths and illness in the U.S. which has recorded over 6 million COVID-19 cases with more than 185,000 deaths to date.
According to Fauci officials "certainly are not wanting to wait back and just let people get infected so that you can develop herd immunity. That's certainly not my approach."
In response to the same The Post report, Atlas commented that he wasn't pushing for a herd immunity tactic and the news is "out of control." "There's news, there's opinion and then there's overt lies -- and that was one of those overt lies," he said.
The White House Coronavirus Task Force coordinator, Dr. Deborah Birx, has also dismissed even the possibility of the notion that the Trump administration was considering "herd immunity."
"Neither I, nor anybody in the administration, is willing to sacrifice American lives for herd immunity. We'll get to herd immunity through a vaccine and that's the right way to do it," Birx told reporters during a briefing. "I would not be here if the White House believed that herd immunity was an option for America."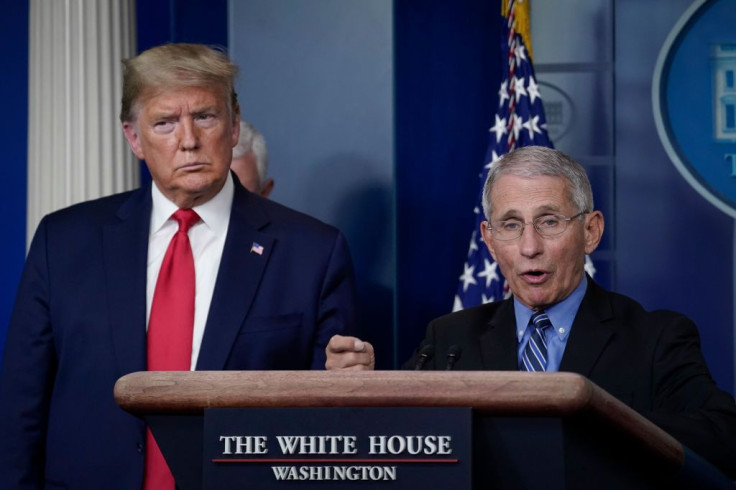 © 2023 Latin Times. All rights reserved. Do not reproduce without permission.