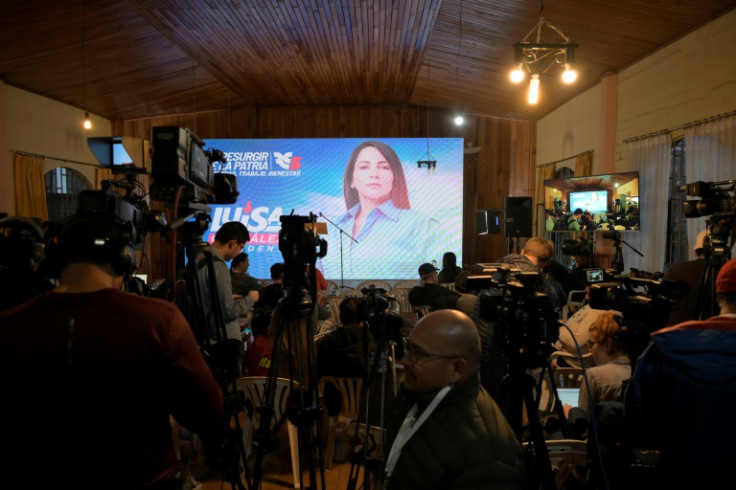 To do their work of reporting the news -- a crucial job ahead of Sunday's looming presidential election -- many journalists in Ecuador now don bulletproof vests and helmets.
Theirs is not a country at war in the traditional sense, but one caught up in a bloody battle nonetheless -- between rival drug gangs.
Long a peaceful haven between major cocaine exporters Colombia and Peru, the South American nation has exploded in violence in recent years as enemy gangs massacre hundreds in prisons, hang headless bodies from city bridges and detonate car bombs in the streets.
As the conflict between groups with links to Mexican and Colombian cartels has escalated -- with the country's murder rate quadrupling in four years -- three reporters were among the fatalities in 2022, according to NGOs.
Fifteen have received death threats so far this year.
In August, Fernando Villavicencio --a journalist-turned-presidential candidate with a history of speaking out against the cartels -- was assassinated in broad daylight while on the campaign trail.
"It is not easy to do our work with what we are going through," said a reporter in the port city of Guayaquil, at the center of the violence. The journalist had received threats and asked not to be identified.
What is happening in Ecuador today "we had only ever seen in Mexico, and is something very foreign from our reality," said the reporter, who moved homes after becoming anxious that criminals were zoning in on his whereabouts.
Five Ecuadoran reporters are living as refugees abroad.
According to a recent report by Reporters Without Borders, "journalists in Ecuador work in a climate of growing hostility, physical danger and self-censorship, marked by an increase in the power of criminal gangs and drug cartels, as well as an increase in threats, physical attacks and even murders."
In Guayaquil, many reporters go to work in bulletproof vests and helmets, similar to their colleagues covering Russia's invasion of Ukraine or the Israeli-Palestinian conflict.
Coverage around the largest prison complex in Guayaquil is particularly risky. It has been the epicenter of prison clashes in which some 460 inmates have died since February 2021, many beheaded or burned to death.
As an added security measure, journalists have taken to providing fake personal information in bureaucratic procedures "so that organized crime, if it turns its attention to you, will find it a bit more difficult to locate you," said one.
The August 9 assassination of Villavicencio has fueled the fear.
The remaining presidential candidates, Luisa Gonzalez and Daniel Noboa, have reinforced their security, as have the journalists following their campaigns ahead of Sunday's run-off vote.
Prior to his death in a barrage of submachine gun fire, Villavicencio said he had received threats from "Los Choneros," a gang with links to Mexico's Sinaloa cartel and Colombia's Gulf Clan.
Many news outlets avoid reporting on these organizations for fear of becoming targets themselves.
Cesar Ricaurte of the Fundamedios press watchdog told AFP "the pattern of violence" in Ecuador has changed.
While in the past the threat came mainly from state actors -- such as corrupt politicians fearful of being exposed -- it now comes from "organized and common crime," he said.
In March, five envelopes with USB sticks loaded with explosives were delivered to journalists at different media outlets in Ecuador. One was slightly injured after a device detonated.
Last year, the TV station RTS came under gunfire, and in 2020 a device exploded on the premises of Teleamazonas.
"I've been wearing a vest and bulletproof helmet for a month-and-a-half," a photojournalist from Guayaquil told AFP, recounting warnings received while on duty in Duran, a town under gang control.
"They told me: 'watch out, this is how toads die... stop taking pictures, you don't know what you're getting into.'"
In Colombia, the Spanish word for toad, "sapo," is used to denote a snitch.
The Inter-American Commission on Human Rights has also expressed concern for reporters in Ecuador ahead of the election.
The "violence, threats, stigmatization and exile of journalists require extreme efforts to provide protection and guarantees to journalists," IACHR special rapporteur Pedro Vaca said on X, formerly Twitter.