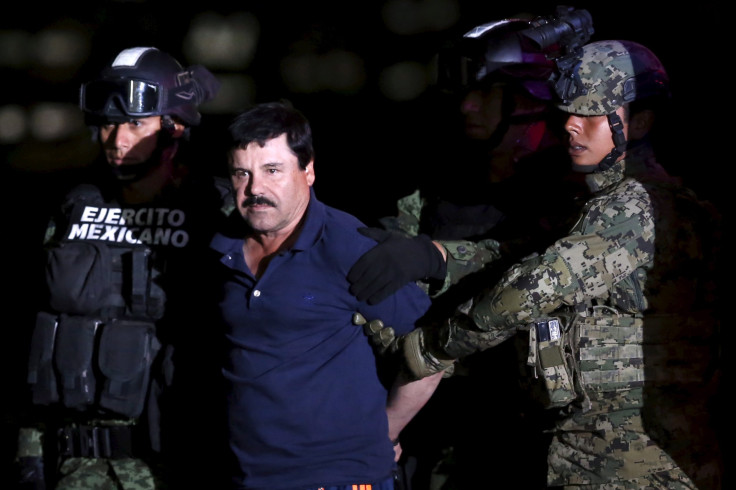 Joaquín "El Chapo" Guzmán was recaptured near Los Mochis, Sinaloa on January 8, 2016. Mexico's President Enrique Peña Nieto confirmed the news on Friday morning via social media, "Mission accomplished: We have him. I want to inform Mexicans that Joaquín Guzmán Loera has been detained," he wrote on his personal Twitter account.
According to sources, "El Chapo" attempted to bribe the authorities executing his arrest. El Milenio reports Guzmán offered Federal Police members "companies, houses and businesses" in exchange of his freedom. He added that if they let him and his right-hand man, Orso Iván Gastélum aka "El Cholo," go, they "wouldn't have to work ever again."
The infamous drug lord was detained at about 4:30 a.m. on Friday, when the Mexican marines and Federal officers attended an operative in Sinaloa that had as objective the apprehension of the fugitive, who was spotted alongside "El Cholo" in a Ford Focus on the Las Brisas-Los Mochis highway.
Official police reports mention Guzmán came out of the car saying, "they were all going to die" and asking if they "had any idea of who he was." When authorities confirmed the identity of the famous criminal and moved forward with the arrest, he demanded that he'd be taken to Che Ríos. That's when he proceeded to bribe the officers, but instead got locked up in the back of the police car and was taken into custody.
Guzmán Loera successfully escaped the maximum-security prison in Almoloya, Mexico on July 11, 2015. Mexico's Attorney General Arely Gómez revealed that 33 people are believed to be linked to the escape and they are currently under Government's custody back in October.
"El Chapo" could be extradited to the United States of America, but no further details have been revealed.
© 2023 Latin Times. All rights reserved. Do not reproduce without permission.