The wife of Mexican drug lord Joaquin "El Chapo" Guzman Loera, who is serving a life term in federal prison, will plead guilty on Thursday admitting her role in assisting Guzman in running the Sinaloa Cartel and aiding him in a dramatic escape from a high-security prison.
On Feb. 22, the beauty-queen wife of El Chapo, Emma Coronel Aispuro was detained by the authorities at Dulles International Airport on drug-trafficking charges, New York Times reported.
After her arrest on Monday, New York Post reported that she was charged with a number of narcotics trafficking counts for allegedly working with her husband's organization to bring cocaine, meth, heroin, and marijuana into the United States. The 31-year-old functioned as an intermediary between her husband and a group of key conspirators who orchestrated the escape using her visitations to plan and excavate a nearly mile-long tunnel into the shower of the prison.
It is uncommon for law enforcement to pursue drug lords' spouses, but in Coronel Aispuro's case family has had a long history in the drug trade. At her husband's trial, prosecutors presented strong evidence that she was actively engaged in his criminal activities, frequently assisting him in sending messages to her own father, Inés Coronel Barreras, who was her husband Guzmán's top lieutenants prior to his arrest in Mexico in 2013.
Coronel Aispuro is accused of acting as the middleman for her famed drug lord husband and his alleged Sinaloa Cartel associates while he hid for years from US and Mexican authorities. According to the Justice Department, she is charged with importing illegal drugs into the United States and with assisting in Guzman's 2015 escape from a Mexican jail, Fox News reported.
A source told the Times that Coronel Aispuro wouldn't have to cooperate with the US authorities, in accordance with her plea agreement with her prosecutors. She is a dual citizen of the United States and Mexico, and will be classified as a "minimum participant" in the conditions of her plea deal. This means that she would receive a shorter punishment than the possible 10 years to life sentence under her criminal charge.
As the drug trade and its owners take a fall, authorities in Mexico are auctioning off the opulent properties of drug lord El Chapo, including his multimillion-dollar residences and a VIP box at Aztec Stadium.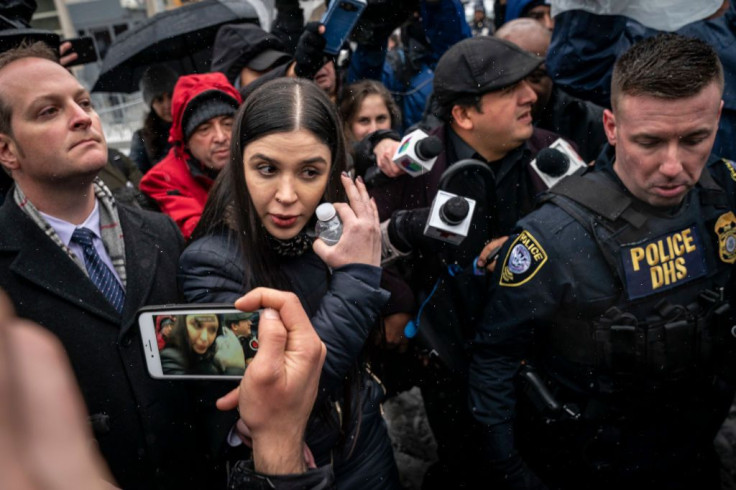 © 2023 Latin Times. All rights reserved. Do not reproduce without permission.