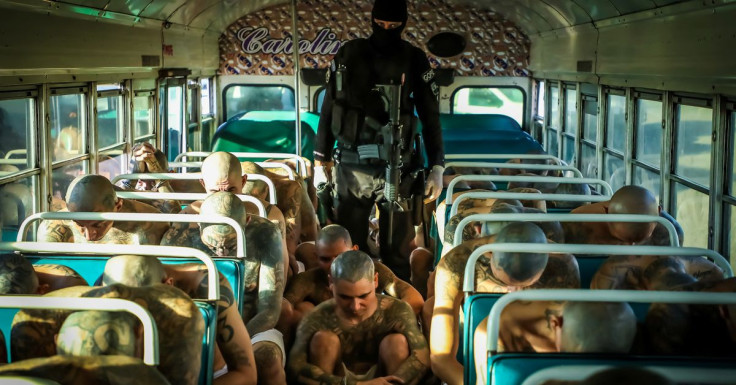 The latest move in a divisive campaign against crime that has seen El Salvador's jail population soar was the transfer of thousands of suspected gang members to a recently opened "mega prison" on Friday.
President Nayib Bukele announced on Friday that 2,000 suspected gang members had been transferred to a newly finished maximum-security facility.
"Today before dawn, in a single operation, we transferred the first 2,000 gang members to the Center for Terrorism Confinement (CECOT)," he wrote on Twitter.
"This will be their new house, where they will live for decades, mixed together, without being able to do more damage to the population."
Early on Friday morning, about 2,000 alleged gang members were transferred to the 40,000-person jail, which is thought to be the biggest in the Americas.
In a video shared by Bukele, inmates are seen rushing into cells while wearing nothing but white shorts and shaving their heads. numerous bear gang tattoos.
After a sharp increase in homicides attributed to violent gangs, Bukele urged his allies in El Salvador's Congress to approve a state of exception that suspends some constitutional rights last year. The state of exception has since been extended several times.
Since then, the anti-crime dragnet has resulted in the apprehension of over 64,000 suspects. Private communications are available to the government, arrests can be made without a warrant, and detainees no longer have the right to an attorney, reports Reuters.
Human rights groups contend that innocent people, including at least dozens of those who have recently died while in police custody, have been affected by the policy.
But Bukele's anti-gang push remains widely popular with Salvadorans, and the country's security minister told it would continue until all criminals are captured.
Although the move was unannounced by the government, around 150 inmate relatives congregated early on Friday outside La Esperanza prison in San Salvador, and EFE saw several busloads of prisoners depart.
Public Works Minister Romeo Rodriguez described CECOT as the biggest prison in the Western Hemisphere with space for 40,000 inmates and reassured Bukele that the facility was escape-proof during a tour of the prison with EFE and other media present at the end of last month.
Built on a parcel of 165.2 hectares (407,901 acres) in a rural area more than 75 km (47 mi) from San Salvador, the prison itself occupies 23.1 hectares in the center of that expanse, whose perimeter is secured by a large contingent of soldiers and police, reports La Prensa Latina.
The prison's inauguration occurs nearly a year after a state of emergency was declared in March 2022 with the stated goal of combating MS13 and other gangs.
Since Bukele's assertion that the government required special authority to combat the gangs, his right-wing assembly allies have voted to extend the state of exception each month.
When a state of emergency is declared, constitutional protections are suspended, and police are permitted to detain individuals without a warrant or reasonable suspicion under judicial review.
Three weeks ago, Amnesty International said that the new prison would mean "continuity and escalation of the abuses" committed under the state of emergency.
© 2023 Latin Times. All rights reserved. Do not reproduce without permission.