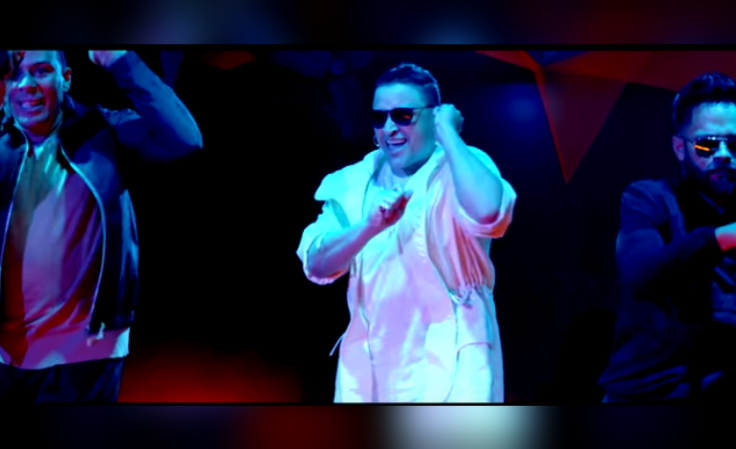 Elvis Crespo reunites with his original crew of Grupo Mania to present his latest single "Escapate." After dropping the raunchy bachata tune "Tatuaje" featuring Bachata Heightz in 2014, and after releasing the urban song "Si Tu Novia No Te Llama" featuring Farruko, Crespo returns to his merengue roots. And what better way to do it than with the group he first gained fame with in the mid-90s?
Their new jam is accompanied by a vibrant music video that launched Thursday via an exclusive on Telemundo's "Al Rojo Vivo." The "Escapate" music clip, produced by Flashmusic and directed by Gus, tells the story of a woman who it locked up, but escapes prison to go clubbing with Elvis and Grupo Mania. According to Billboard, the 44-year-old Puerto Rican merengue singer based the concept of the video on the "infamous drug lord Joaquín Guzmán Loera 'El Chapo' and his clever escape from a maximum-security prison last July."
This is the first time in many years that Crespo and Grupo Mania work together on a song. The popular merengue group formed in the early '90s in Puerto Rico before releasing their debut album in 1993. The band was originally formed by siblings Héctor and Oscar Serrano, along with Edwin Serrano and Alfred Cotto. Elvis Crespo stepped into the picture in 1994 when he replaced Edwin. For about four years, that generation of Grupo Mania released its most successful albums. In 1997, however, Crespo decides to follow a solo career, where he released mega hits such as "Luna Llena," "Suavemente," "Pintame" and "Tu Sonrisa."
On another hand, Grupo Mania made their comeback in 2013 after a four-year hiatus. They released two studio albums since and is a finalist at the 2016 Billboard Latin Music Awards. Both Crespo and the merengue group will embark on the Escápate World Tour this summer, reports Billboard. Check out the video below, any thoughts?
© 2023 Latin Times. All rights reserved. Do not reproduce without permission.