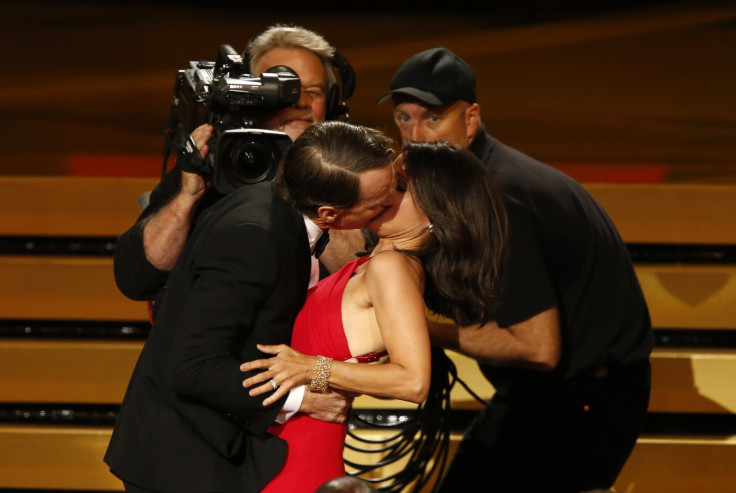 As promised, the Primetime Emmys were full of surprises last night; some of them good ones, others not so great. But that's the thing about live television; it keeps you on your toes. Now, let's start with the red carpet surprises. The Hayden Panettiere Reveal: it was a cute moment when the "Nashville" star accidentally revealed she's having a baby girl. Julie Bowen's non F-bomb: E! mistakenly thought, one of our favorite TV moms would curse on live television so they bleeped her, but they were wrong; Bowen had said fun. High Sara Silverman: it might've been part of an act but Silverman seemed pretty out of it and very focused on her boobs' height, she let Giuliana Rancic search her purse, only to find what the actress said was her "liquid pot." Cotton Candy Dunham: as much as we love Lena Dunham, we'd really like to understand what she was thinking when she decided to wear what she wore.
The Colbort Report: we'll cut Gwen Stefani a break because we love her and after all music is what she does best. "The Voice" judge called the "Colbert Report" the "Colbort Report" when she was presenting them with an Emmy for Best Variety Series. Sofia's Twirl: Vergara's skit quickly went from being funny to being slashed on social media for being antifeminist. Did people take it too seriously? The Big Not Again: for many of us who are not fans of "The Big Bang Theory" it remains a mystery that Jim Parsons keeps winning (any) awards. Especially when he's nominated alongside Louis C.K., Don Cheadle, Ricky Gervais, Matt LeBlanc and William H. Macy! No, just no. Game of Snubs: Ok, we get it, it was "Breaking Bad's" last hoorah but "Game of Thrones" was the most nominated series of the year and went home empty handed. Nada, not get a single Emmy! Couldn't they have given Peter Dinklage and Aaron Paul a tie Emmy?
The Normal who? While Ryan Murphy did win Best Direction for the HBO movie, there were so many huge names amongst the actors who were favorites to win and none did. Kathy Bates beat Julia Roberts! Sealed with a Kiss: best actor winners Bryan Cranston and Julia Louis-Dreyfus, remembered the first time they worked together on "Seinfeld" with big smooch before Dreyfus' acceptance speech! TV royalty right there, guys. Not so fast Netflix: with shows like "Orange is the New Black" and "House of Cards" the online network was expected to take plenty of Primetime Emmys home. The network took seven Emmys from the Creative Arts session, but none last night. And yes, Robin Wright was robbed.
In terms of the show, we were surprised there wasn't a big opening number to warm up the audience for host Seth Meyers. Instead there was a monologue that was actually quite funny, unlike most of the other skits. What was that Weird Al song? Horrible. The in memoriam part had us all in tears, not to mention that tribute for Robin Williams that Billy Crystal did for his "good friend." It was short, sweet and deeply moving; the perfect goodbye for Robin.
© 2023 Latin Times. All rights reserved. Do not reproduce without permission.